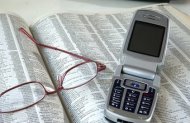 Small businesses have several low-cost advertising options.
mobile phone image by Vladimirs Koskins from Fotolia.com
The best advertising and business promotions can be accomplished via low cost methods, such as fliers, sponsoring a charity event, referrals and press releases. No matter which methods you choose as a business owner, the key is to keep the advertising rate going, and take advantage of market conditions to promote your business. For instance, when the economy experiences a downturn, marketing your business as one that lowers prices to meet consumer needs is quite effective.
Step 1
Write about your business and your industry. Business owners can take advantage of local publications and trade publication's need for content. Query local publications, such as small newspapers, shopper's coupon books or guides, trade publications and association newsletters. You can also write for blogs that focus on your business' industry, and send press releases to your local newspapers. According to Tom Egelhoff, an author and marketing specialist, as you become more published, your name recognition and command of the industry will be elevated which will lead to more exposure for your business.
Step 2
Teach a class. Municipalities hold all kinds of classes for their residents, such as fitness classes, music classes, and how-to classes. Find out if your local government holds classes on business ownership, running a business, or anything related to business practices. Ask how you can teach a class. Furthermore, local chambers of commerce often hold these types of how-to classes; inquire with your local chamber to see if you can teach a class.
Step 3
Take advantage of the Internet. Though it sounds obvious, some business owners do not use the Internet to advertise because they believe their ads will be lost in a sea of information. Use pay-per-click marketing provided by search engines and social networking sites to promote your business. According to Entrepreneur.com, Facebook ads use nine filters to target customers for as little as $1 per day. If you don't have your own website, create one. Website design software is increasingly less expensive, and most offer templates that do not require programming or design knowledge. In the alternative, web hosting services typically offer low cost website design and self publishing.
Step 4
Use print advertising. Instead of buying a quarter page ad in a large-market newspaper, consider placing smaller ads in coupon books, shopper's guides, and small circulation newspapers. You will get more exposure being a bigger fish in a smaller pond, rather than appearing in a collage of dozens of ads in a large-market publication.
Step 5
Sponsor an event. Look for charity events in your area, and inquire how to be a sponsor in said event. You'll get exposure to a larger, more diverse audience, and will be engaging in a public service by helping your community or a cause. Dunn and Bradstreet's, All Business.com recommends this method because of its positive public relations impact.
Step 6
Print and distribute fliers. The Small Business Owners Tool Kit suggests printing fliers as a great way to advertise for little money. They should be bold and colorful, and include a clever, unique catch phrase. For instance, a transmission and radiator repair shop could be advertised as, "Moe's radiator-the best place in town to take a leak." The effectiveness of fliers correlates directly to their range of distribution—meaning the more broadly the fliers are distributed, the more effective they are. Hire a part-time employee to place them on automobiles, hand them from doors and hand out to office receptionists.
Tip
Don't forget to ask your customers for referrals. Let them know they'll receive a discount off their next purchase or will get a free gift with every referral.