Marketing is undoubtedly one of the most crucial success factors for new online businesses and should be a primary emphasis early on. But if you only focus on traditional traffic generation strategies like link building you're missing out on lots of potential customers.
The following strategies can easily help you increase your website's traffic - even double it - without having to do an ounce of marketing. Here's how:
1. Add Long-Tail Variations to Your Pages
Long-tail keywords are easier to rank for and usually convert at a much higher rate than shorter, more generic terms. Here's how you can maximize your exposure to long-tail variations and increase your traffic:
Identify Long-Tail Modifiers
Let's pretend we sell the Logitech C310 webcam and wanted to optimize our page to rank for as many searches as possible. We'd visit our old friend the Google Keyword Tool and make note of all the long-tail variations. We'd also want to look at the bottom of the search results where Google lists related searches. The related searches for "Logitech C310" look like this:

Work these Modifiers into Your Page Copy
Because our Logitech C310 page is (hopefully) somewhat optimized for the term "Logitech C310", we don't need to insert each long-tail search phrase verbatim into the page. Instead, we want to work the unique variations at the end of "Logitech C310" into our copy to allow the possibility that we can rank for it.
Revisiting the related searches from above, we'd want to make sure the words boxed in red below appeared on our page: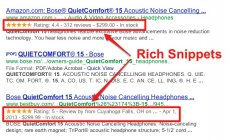 We'd want to ensure our page included the words "Skype" and "Mac", as well as discussed the differences between the C525 model using the "vs c525" phrase. With all of these newly included modifiers incorporated into the copy, our page has the potential to rank for a wider range of queries.
Not all of the modifiers we uncovered will be applicable. Branded keywords - like "best buy" above - won't be useful, and we would likely have a number of modifiers already incorporated. However, more often than not, we'll uncover a handful of long-tail gems to help increase potential ranking opportunities and ultimately boost our traffic.
2. Stand Out with Rich Snippets
Rich snippets are search listings that include information regarding a product's price, availability and review count. They're useful for learning more about the particular product and/or site at a glance from the search results page without having to visit it.

Rich snippets are incredibly powerful because they can increase the number of people that click on your page by up to 30%. That's a huge boost for something that can usually be implemented relatively painlessly! Compare that to increasing your marketing or ad-spending budget by 30% and you'll see why it's so powerful.
The process for setting up or enabling rich snippets will vary based on your platform, so you may need to do some research to get it implemented. Once you think everything is setup properly, you can use Google's Rich Snippets Testing Tool to make sure there won't be any display problems. Rich snippets can take some time to appear in the search listings, so don't worry if you don't see them right away.
Authorship and Video Thumbnails
Product-based rich snippets will likely be the most applicable for many merchants, but there's also two other types of enhanced listings to know about: Google Authorship and video thumbnails.
With authorship markup you can tell Google which content you've written and your picture will appear alongside the listing for that piece. Just like the name implies, video thumbnails are a thumbnails of a page's embedded video that appears alongside a page listing. Just like product-based rich snippets, both of these have also proven to dramatically increase the click through rate of the associated pages.
When should you use each type of enhanced markup? That will vary based on your content, products and goals. Google Authorship markup could be a great choice for enhancing a store's blog posts in the search results, while video thumbnails could potentially help video-rich educational pages stand out.