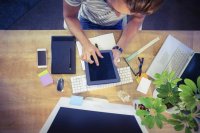 Credit: iStock
As digital spend continues to reach landmark highs - it hit $27.5 billion for the first half of 2015 – so does ad fraud, which is now estimated to cost the industry about $18.5 billion annually, according to a report released Thursday by Distil Networks.
That means for every $3 spent, $1 is going to ad fraud.
Mobile, for example, now accounts for 30% of all revenue generated by digital advertising, the IAB said.
And mobile is also getting its share of ad fraud.
"There are different types of mobile fraud happening, " said David Sendroff, CEO of Forensiq. "In some cases, they are faking mobile traffic. And in other cases, they are hijacking devices and filling ads in the background."
Additionally, the rapid growth of programmatic ad buying and selling has dramatically ballooned the estimates for ad fraud since 2010. In short, more automation equals more ad fraud, according to the report.
One of the biggest obstacles is thwarting nonhuman traffic, or bots.
Real performance advertising is when marketers are judging their efficiency by verifying their spend based on sales, Mr. Epstein said. "Fraud thrives when advertisers measure the wrong events like page views, video views - those are events that both a human and a bot can do."
Rampant ad fraud has led to 37% of advertisers saying they are willing to pay a premium of 11% or more for certified, human traffic, according to the report.
"If advertisers are measuring things only humans can do, like pulling out a credit card and paying for something, then the ad networks are going to have every incentive to kick bot traffic out, " Mr. Epstein added. "But when they are basing their spend on page views, the networks have the perverse incentive to allow that relatively fake, cheap traffic to exist in their network."
Some publishers not capable of detecting non-human traffic
Publishers and advertisers were surveyed to identify the different types of fraud taking place. Of the 138 surveyed, they said content theft, fake registrations, login attacks, click-impression fraud and skewed analytics were among the biggest problems they were seeing.
In particular, about half of the respondents said skewed analytics was an important problem while another third said fake registrations were also an important problem. Despite this, 25% of publishers have no way to detect non-human traffic.
So, what is working to combat ad fraud?
"What is working really well is the low-tech stuff, " said Augustine Fou, founder of Marketing Science Consulting Group. "As more advertisers and agencies are paying closer attention to their analytics and scrubbing out the bad and useless stuff, that is making a noticeable dent in ad fraud. That same group is then adopting more advanced detection technologies to detect and mitigate the advanced bots."