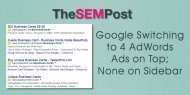 It seems that Google is rolling out a change to Google AdWords that sees 4 ads at the top of the search results, none on the sidebar at all, and an additional 3 ads at the bottom of the search results. This replaces the usual mix of top, bottom and sidebar-heavy AdWords ads, depending on the specific search result.
Many of the ads do have additional features like sitelinks, but it is hard to tell if those have increased or not.
It was huge news in December when Google began testing 4 ads at the top of the search results, and quite a controversial one for many. While advertisers loved it, regular SEOs weren't so happy since it pushed the organic search results even further down the page.
AdWords hasn't confirmed it publicly yet, but multiple advertisers are confirming this is what their AdWords reps are telling them.
Our rep has confirmed it is a global change to remove right hand side ads from desktop.
— Matt Stratford (@Stratford91)
Getting word from Google that they're officially rolling out four paid ads at the top and no paid ads on the sidebar. cc
— Kyle Risley (@KyleRisley)
Dr. Pete Meyers from Moz is reporting their Mozcast data went from less than 0.1% of their tracked search results having 4 ads above the fold to 19% of them.
Of 10K SERps, almost 6K had top ads. Breakdown:
1 ad – 36%
2 ads – 17%
3 ads – 28%
4 ads – 19%
— Dr. Pete Meyers (@dr_pete)
Which equals a 19, 000% increase.
Well, 0.1%. So, it's not infinite, just a 19, 000% increase 😉
From AdWords:
Hey everybody! Gathering more info on this for you. Stay tuned. -Ian
— Google AdWords (@adwords)
And then they seemed to be taking a joke in stride while #ppcchat'ers were waiting for the official announcement (even though all evidence points to the change being made).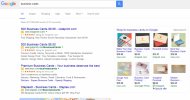 Might we suggest adding "Hanging by a Moment" by Lifehouse and "Patience" by Guns n' Roses? -Ian
This isn't a huge surprise when you really think of it. Google has been bringing their search results closer to the mobile experience over the past year, and this definitely qualifies for it.
It also leaves more room for Google's Product Listing Ads to show in the sidebar – they are still being run in the sidebar even with 4 ads above the fold. And it shows more PLAs since Google often shows two rows of PLAs in the sidebar while only one row at the top of the search results. PLAs can still appear above the search results though.
And also makes it available for other features such as the knowledge panel.
Some are saying the rollout is expected to complete by February 22nd, which is a few days from now.
We will update if/when AdWords confirms the changes. But all evidence from what people are seeing in the search results currently is that most people worldwide are seeing this change to 4 ads on top, 3 on bottom but none at all on the sidebar.
Update from Google: A Google spokesperson reached out to The SEM Post with the following.
"We've been testing this layout for a long time, so some people might see it on a very small number of commercial queries. We'll continue to make tweaks, but this is designed for highly commercial queries where the layout is able to provide more relevant results for people searching and better performance for advertisers."
Update from Google #2: this change is global and impacts all languages. I asked for clarification on the commercial queries, and they are queries where people express a deep intention to buy.