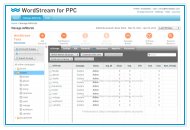 AdWords pay-per click enables you to provide relevant messages to interested searchers, all while staying within your budget. Imagine if you could go even further and target your message to exact queries that searchers are typing in. With WordStream AdWords software, you can. WordStream takes relevance to a whole new level by providing you with long-tail keyword opportunities and keyword grouping capabilities to make your AdWords campaigns work for you, not the other way around.
Manually laborious with many multi-step processes
Try WordStream for PPC FREE!

Get instant access to WordStream's PPC Management and Quality Score Optimization Tools. Risk-free, no credit card required!
AdWords PPC Integration With WordStream
Rather than replace AdWords, WordStream works with your AdWords account to give you the functionality you need in the most streamlined way. With WordStream, you can put the work you've done in AdWords to work automatically and save you time otherwise wasted on manual, multi-step processes. This is the key to successful AdWords campaign management.
For example, when using the Google AdWords keyword discovery tool, normally you would have to review your pay-per click keyword list manually, export the keywords you want to a spreadsheet, review the data, and then decide how you want to proceed. You've already taken four steps, and you don't even have your keywords organized yet. With WordStream, you can import lists of keywords from Google's keyword tool with one click.
Once you've uploaded your list of keywords, WordStream will offer you suggestions for keyword groups (which you can turn into high-performing ad groups) to help you build powerful text ads and to keep your PPC search campaign organized.
You can create Google AdWords text ads right from your WordStream dashboard. By clicking on the term you'd like to create an ad group around, you can have your AdWords pay per click ads up and running in less than five minutes, without ever needing to leave WordStream.
Keyword Discovery – The Secret to AdWords Success
Over time, WordStream will suggest new keywords for you that relate to the choices you've made in your account, and it will also help you eliminate keywords that are irrelevant to your results. This is important because good keyword research doesn't end at 200 keywords, or even 2, 000 keywords. Google's keyword discovery tool will help you find keywords related to your queries and can suggest related terms on a small scale, but WordStream will continuously find you unique, long-tail keywords that a human being could never find when managing a campaign manually.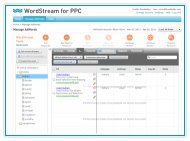 By discovering as many as hundreds of thousands of long-tail phrases related to your keywords, WordStream's pay per click software is giving you the opportunity to reach more searchers with than you could ever reach through Google AdWords alone.
Why Your Ad Text Could Break Your AdWords Campaign
Creating a text ad in Google AdWords can help you to drive targeted traffic to your website. Unfortunately, it can also fail, costing you money in irrelevant clicks that aren't bringing qualified visitors to your website. When creating ad text, it's important to be sure that you're targeting the right customer and that the terms you're using are going to show up for the right search results when you activate your ads.
Using a pay-per-click tool like WordStream helps you by suggesting appropriate ad text for you. The ad text generator can help you to prevent publishing an ad that will be shown to an irrelevant audience, all while still working through Google AdWords just as if you were in your Google dashboard.
Get Graded: Use the AdWords Performance Grader to See How Your Campaign Measures Up
Wordstream's AdWords Performance Grader is a revolutionary new tool that helps you evaluate how your AdWords campaigns are performing on several key criteria such as:
Quality Score
Text Ad Optimization
Click-Through Rate
Use of Negative KeywordsL
Long-tail Keyword Optimization
Landing Page and Text Ad Optimization
This sophisticated tool allows you to compare your Performance Grader score with competitors in similar spend brackets, giving you a sense as to where you fit into the competitive landscape.
The AdWords Performance Grader has been designed by PPC experts to show you where your campaign is struggling and how to make adjustments that will improve your performance and increase your ROI. It's an advanced in-depth analysis, and it's absolutely free!