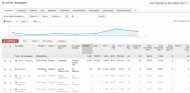 For more info on the different kinds of AdWords extensions, check out our .
AdWords call extensions apply your business phone number to your text ads. This can come in essentially 3 different forms:
1 phone number for your ecommerce website
a phone number for your local B&M location (in unison with location extensions)
a click-to-call button on "high-end" mobile devices (shown above)
Seller ratings annotations, sitelink extensions, and call extensions make up probably the most fundamental enhancements for retail-focused AdWords ads. In this case, call extensions help influence shoppers to reach out to you directly rather than going to your site and potentially bouncing from there. Ultimately, call extensions are extremely useful for ecommerce sites, essential for stores with B&M locations, and influential in driving mobile CTR.
1. Add a new extension
Choose which campaign you want to apply the call extension to and add a new number.
2. Fill out the new phone number info
During the process, you'll run into a couple different options to choose:
Use a Google forwarding number OR use your own number: Unless you have your own separate system for tracking call conversions, use a Google forwarding number. This way, you'll be able to see how much business is coming over the phone directly in the AdWords login, with mobile call conversions being reported in the normal conversions column and call conversions from desktop users in the Estimated Total Conversions column.
Show both website + phone number OR just phone number: This only applies to mobile searchers. So if you're a retailer with a B&M location nearby, it might be better to display only the phone number. This should also be considered if you don't have a mobile-optimized site and are not confident in your ability to convert a mobile shopper.
Device preference to mobile: Check this if you're optimizing specific text ads or ad groups for mobile shoppers.
Advanced options: Scheduling is useful here if you don't have a 24/7 call center. So, for instance, if your customer service reps are only in from 9-5, it may make sense to not advertise the number at 3 am. You'll also want to check the box to count calls as phone call conversions. A given retailer with call extensions implemented may be receiving 20% of their monthly orders via the phone, and without a proper call conversion tracking system in place, they may never know it. Next step: define what a call conversion is.
3. Define your call conversion
The definition of a call will vary from business to business, and so you'll need to define this yourself. Does a 3 minute call usually mean that an order was made (or will eventually be made)? Do longer calls typically mean higher AOV for your business? Of course, a 15 second call of someone asking for one quick piece of information should not constitute as a conversion. You also have the option to set a conversion value per call here (what's your typical AOV for a given transaction?).
Update: Learn how to upload call extensions in bulk.
Check back for more setup and strategy best practices for other AdWords Extensions, or view our overview of the 9 different AdWords Extensions here.
Resources