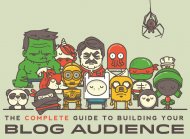 The Complete Guide To Building Your Blog Audience
Chapter Six
In the first chapter we talked about ways you can use paid social media to build your social communities and followings. In this chapter we're going to share key strategies you can use to grow your traffic by marketing your blog posts through paid social media.
Paid is an option many don't consider when it comes to marketing blog posts. We discussed this in the chapter about paid search and it's true for paid social. There are some good opportunities if you really want to grow your blog with targeted traffic.
In the following sections were going to share one specific strategy you can use with each of the following social media advertising programs to promote your blog posts.
There are more ways to do it, but these are some of the most effective.
Let's get into it.
Facebook
As we've been saying, Facebook is the most popular social network so we start much of our efforts here. And that goes for paid social blog marketing as well. Here is the strategy to use for your blog with paid Facebook advertising.
Step 1 Creating Sponsored Stories
We talked about the normal Facebook ads for getting followers. These can work to promote your blog posts, but Sponsored Stories offers a bigger opportunity to get traffic to your blog and interest in your brand.
Step 2 Go to the Ads Create Tool

Step 3 Choose the Advertising Objective — Clicks to Website

Step 4 Select the image that is used in your blog post.
Custom illustrations work best
Step 5 Enter your blog's title into the Sponsored Story create tool
Remember, this is the most important part of your blog marketing. The title needs to be incredibly catchy and click-worthy.
We've shared a few examples in the previous chapters, but here are a few action words that entice clicks:
Surprising
Unexpected
Shocking
Kill
Destroy
Use more verbs than nouns. Don't give away all the information in the title. Numbers are excellent for titles. People love lists and stats.
Here are a few examples:
11 Surprising Ways To Unclog Your Drain
You Won't Believe How These People Unclog Their Drains
Learn How To Destroy Drain Clogs In Two Minutes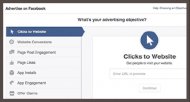 Depending on your niche you can expect to pay about per click to your blog, but there are many variables that can influence how much you will pay. Depending on the nature of your business this can provide some excellent ROI in terms of initial sales, but the main focus of this ad campaign is to get people to your blog. Wow them with your content and get them to opt-in to your email list for more updates.
Twitter
Twitter has a variety of ad options like Facebook and other social networks. The best one for your blog marketing efforts is the Promoted Tweets option.
Here are the steps to create a Promoted Tweets campaign that will generate traffic for your blog posts.
Step 1 Select Your Most Popular Tweets
The first step is to pick the type of tweet that does well with your followers. This might not be your best blog post, but you're targeting the Twitter audience so you want a tweet that garnered a good number of retweets, clicks and other types of interaction like favorites.
Step 2 Choose Your Target Audience Or Interests In Timeline
We've been discussing your target audience for much of this guide. By now you should have a really good idea of the people that will be most interested in your tweets and your blog content. Twitter gives you the opportunity to target people based on the type of people they follow and what has been shared on their profile and in their feeds.
Step 3 Target By Keywords In Timeline
Twitter also allows you to target your promoted tweets by keyword. We did this research in previous chapters on paid search. You can reuse that information to choose the best keywords to target in your Twitter campaigns.
In the past, Twitter has had high minimum purchases for ads. This made is difficult for small and medium businesses to use the platform, but much has changed with Twitter Advertising.
You can expect about $0.50 to $0.75 estimated cost per engagement, which is Twitter's way of telling you what your cost per click is. Engagement can include anything from clicks to retweets to replies and follows. Double this and you'll get what your expected cost per click will be to promote your blog posts with Twitter.
Step 4 Buying Tweets




Resources