Online banner advertising is the most expensive of all forms of customer acquisition, exceeding even traditional media. By comparison, customer referrals (see the top line in the illustration below) are free. As always, word-of-mouth is the most cost-effective form of advertising.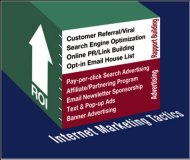 Credit: Internet Marketing Tactics ROI Chart Courtesy of Rapport Online Inc., roi-web.com
A developer generally handles no online advertising, although one with a strong background in marketing communications can produce banner and Flash ads. Because you need attractive, high-quality creatives (the files or artwork delivered to a publisher) to compete in the banner world, use professional services, especially for rich media ads using Flash, video, or sound. Some networks create ads for a price or offer banner-builders onsite.
You can place ads yourself by reviewing online media kits or calling a publisher — an individual website that posts ads. An online marketing company or ad agency can also help with your media buys.
Paid online advertising comes in a variety of forms:
Static banner: Available in various sizes
Animated GIF or Flash: Technical formats for displaying several images within one file
Digital video: Kept very short (15 seconds or less) for online advertising purposes
Other types of rich media: Often supplied with sound or interactive (engagement) elements
Pop-up: Infamously appear over a page
Pop-under: Visible after you close the browser window
Interstitial: Appear before or between served pages
Expandable: Grow to cover more of a page whenever a user hovers the mouse over the ad
An ad owes 20 percent of its success to the creative element, 40 percent to the offer, and 40 percent to the right audience. As with PPC ads, be sure to match your offer to your audience. Be careful also to link to the correct landing page on your site.
Get inspired to develop your banner ads by looking at award-winning ads at the Internet ad competition sites listed previously.
Performance varies among static ad sizes. The ad types known as large rectangle, leaderboard, and skyscraper generally perform better than overly familiar, 60-pixel-high banners.
You can also use an exchange program to test one creative against another for efficacy before visiting an expensive publisher's site.
Keep in mind that the audience you gain by way of an exchange program probably isn't as targeted as the audience you gain by way of a paid network, and certainly not as targeted as individual sites that you identify yourself.