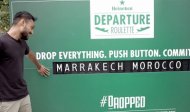 In a year where marketers continued to brandish new technology just for the sake of it, Creativity celebrate the best interactive work of 2013, which managed to leverage technology to make brands useful and meaningful players in consumers' lives, or to engage them more deeply with a brand's promise. Here, a look at Creativity's favorites from the year.
Also, check out our picks for 2013's Best in TV/Video and 2013's Best of Print/OOH/Design.
No. 10: Ron Burgundy
Love it or hate it, one thing's for certain: Ron Burgundy was everywhere this winter, in a campaign to promote "Anchorman 2" that brought the anchorman into journalism schools, hosting local news programs, and getting his own Ben & Jerry's flavor. The best, perhaps, was this stunt, featuring legendary newscaster interviewing Peyton Manning for ESPN Sportscenter.
custom_html>
No. 9: DVV: Key Save
custom_html>
3D printing was one of this year's most exciting technologies, and we began to see glimmers of the technology coming into its own as brands used it to solve real business problems - not just to create gimmicks. One of these "real" uses came from DVV, a Belgian insurance company that rolled out a new service for those who habitually lose their keys. It lets customers scan their keys and save them on a secure server so that the next time they lose them, they can go to a 3D printer with the file and print a replacement - a service and a marketing message about innovation that earns the No. 9 spot in our interactive and integrated category.
No. 8: Heineken: Departure Roulette
Heineken Departure Roulette
The brand has been playing around with its "Open Your World" tagline a lot this year, daring customers to go beyond their comfort zones. But its best execution perhaps was "Departure Roulette, " an extension of its "Dropped" campaign that dropped people off in strange locales and got them to find their way home. "Departure Roulette, " from Heineken and Wieden & Kennedy New York, let travelers coming into Terminal 8 at John F. Kennedy International Airport change their destination to somewhere unexpected. The only condition was that they had to go right then and there.
No. 7: Century 21: Walter White's House
And for sheer tactical brilliance, Century 21 takes the No. 7 spot in the integrated and interactive category. AMC's "Breaking Bad" is over, so what better way to cap off the series than to put a for sale sign on Walter White's Albuquerque home? To pay tribute to the end of the series, Mullen created this faux Craigslist post advertising the science teacher-turned-drug lord's New Mexico pad. The ad also featured a phone number to a Century 21 agent named Carol: 575-208-4399, who praises the caller for appreciating excellence - just as her company does.
custom_html>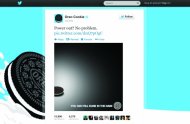 At No. 6 in the integrated category is Google's masterstroke in naming its new operating system after everyone's favorite chocolate bar. Google Android is notoriously sweet-toothed. Its developers have code-named each iteration of the operating system after a delicious treat. It all started with version 1.5, dubbed Cupcake, then moved on to Donut, Eclair, Froyo, Gingerbread, Honeycomb, Ice Cream Sandwich and Jelly Bean and now a branded confection-KitKat!
No. 5: Coca-Cola: Small World Machines
custom_html>
Coca-Cola's long experimented with its vending machines, trying to make them more technologically advanced than the average soda-spitter-outer.
In the past, they've been known to give you a beverage only if you give them a hug, or if you dance or sing in front of them. Now, the beverage giant is attempting a much loftier goal: world peace. Along with agency Leo Burnett, Coke created "Small World Machines", two vending machines, one placed in India, and the other in Pakistan, that turned into communication portals. The idea was to let citizens of both countries - long embroiled in a bitter political and religious battle - see and interact with each other, even complete shared tasks. Once those tasks were accomplished, the machines dispensed a Coke. The move earned the beverage company plenty of Lions at Cannes - three Golds, among them.
No. 4 Oreo: Super Bowl Blackout
T'was the tweet heard around the world: Oreo and 360i's masterful bit of quick thinking when power went out for 30 minutes in the Superdome. Twitter even mentioned it in its S1 filing.
No. 3: SMRT: TXTBKS
custom_html>
This brilliant effort by DM9JaymeSyfu in the Philippines won that country its first-ever Grand Prix at Cannes. TXTBKS, a project created for Smart Communications.
In the Philippines, where most schools don't have access to tablets, e-readers or smartphones, many children are damaging their bodies by carrying heavy backpacks of textbooks to school. So telecom firm Smart, along with Manila agency DM9JameSyfu developed a system that used the only technology the kids did have access to old fashioned analog cellphones used for texting.
In collaboration with textbook companies, books were condensed into 160 character text messages. Then, Smart programmed these texts into thousands of inactive surplus SIM cards. The SIM cards were packed into "smart" slimline textbooks for kids to take home, turning their old mobiles into e-readers and making backpacks fifty per cent lighter. The brand is now planning a rollout across the entire country.
No. 2 Lowe's Vines
custom_html>