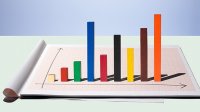 Photo: Getty Images
Here's some good news for the digital media industry: revenue from online advertising saw double-digit growth in the first six months of 2013, compared to the same period last year, according to the IAB's Internet Advertising Revenue Report, conducted by PricewaterhouseCoopers.
In the first half of 2013, online advertising revenue totaled $20.1 billion, an 18-percent increase from the same period in the previous year, according to the report.
As users increasingly shift their attention away from desktops and toward smartphones and tablets, ad dollars are starting to follow. The IAB report found that mobile ad revenue reached $3 billion in the first six months of 2013, a whopping 145 percent increase from the previous year.
Sherrill Mane, svp of research, analytics and measurement at the IAB, attributed the explosive mobile growth to "excitement that consumers are embracing mobile and ... desire on the part of marketers to be where the eyeballs are."
Mane also emphasized that the overall, double-digit growth—that 18 percent figure—bodes well for the industry as a whole. "We are literally at five years running for double-digit growth over the prior year, " she said. "I think that's a stunning fact."
Another area of growth is Web video. Advertising revenue from digital video reached $1.3 billion in the first half of this year, according to the report, a 24-percent increase from the previous year.
And search ad revenue continues to be strong, growing 7 percent in the first half of the year to $8.1 billion.
So what about native advertising, the latest darling of digital media? The IAB report did not explicitly break out revenue from native advertising, in part, Mane and PwC's Michael Altschul said, because the definition of native is still so fuzzy. It seems no two publishers can agree what native looks like.
"The problem with native is, we don't know how to define it in a way that would be consistent for everyone and they would give us reliable revenue data, " Mane said.