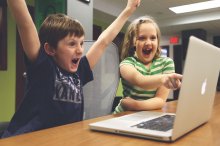 Remember the days when investing your online advertising dollars was as simple as finding a Google Adwords certified PPC company and letting it setup keyword-focused campaigns? With more channels for advertising available and technology enhancements making it easier to target the right buyers, ad buying is no longer that simple.
That's not to say PPC advertising on Google can't work. I know it has. And Google is making billions from it. But for B2B companies with complex buying processes, Google Adwords might not be the right way to invest those limited dollars.
Why Not Google?
Most successful Google Adword scenarios fall into three camps:
B2C ecommerce campaigns

Fast cycle B2B lead generation campaigns (think free trials for business software)

Local service campaigns
For large, national and international companies with the ad budgets and competitors all over Adwords, just being there might make sense. Another scenario might be responding to public perception problems, after you've changed your product to adapt. (For example, Diet Pepsi might promote its switch to sucralose on the term "diet soda dangers.")
For a good portion of mid-sized B2B companies or large B2B companies with longer buying cycles, Adwords might not be the right place to invest. Why?
Keyword traffic is mostly unqualified

PPC alone isn't great for nurturing

Cost per lead can be high… when you get a lead
There's also the problem that PPC traffic was designed for sales leads at companies that didn't focus on marketing in the first place. They needed leads and just wanted people for sales to call, all day, everyday—qualified or not. That doesn't really work with modern marketing.
Where Should You Invest?
When it comes to making digital advertising work with inbound marketing, there are smarter and cheaper alternatives that might be worth investing in first. Here are a three of them:
1. GoChime
This Facebook advertising service takes the social network's custom audiences feature, which allows you to upload email lists and target users with those email addresses, and makes it work in real-time with lists created in your marketing system (including HubSpot). Rather than letting your customer database wait for your next email send, you can target a portion of your existing database, with Facebook advertising, without having to set up more than a Facebook advertising account.
Results: Kuno, as well as another client, was able to re-engage older leads that haven't opened recent emails, while engaging leads we imported into our database that haven't made a submission yet.
Average Cost Per Conversion (CPC): $12
2. Perfect Audience
Perfect Audience is a traditional retargeting advertising platform that makes it easy to setup retargeting campaigns across channels (banner networks, Facebook and Twitter) within a single system. The intuitive user experience makes what can be a complex process, easier to setup, maintain and improve. Plus, there's simple segmentation, which makes it easy to create retargeted ads for different verticals, as well as different points in the buyer's journey.
Results: For Kuno, we were able to generate first time and repeat submissions based on different industry content offers without spending more than a couple hundred dollars in one month. And for a client with a small group of buyers, its six month investment in the service allowed it to generate first time and repeat submissions from the limited, but valuable traffic to its site.
Average Cost Per Conversion (CPC): $18
3. LinkedIn
Saving the best for last, because more than any other platform, LinkedIn has proven to be the most valuable when it comes to promoting lead generating content and getting the right buyers in the door. The professional social network's targeting options can be very precise, allowing you to focus on industry, job title and company size concurrently. Plus, you're able to target LinkedIn users at specific companies, if you are only targeting high-value organizations.
Results: One company we worked with needed to target specific buyers at 150 companies and nobody else. Not only were we able to set up campaigns that targeted individuals at those companies, but cross referenced with job titles making the leads generated extremely precise. For most other clients and ourselves, we've set up industry/job title/company size campaigns that generated some of the most qualified leads of any demand generation channel.
Average Cost Per Conversion (CPC): $32
Smaller is Better
The services above don't generate a ton of leads or submissions, but a smaller group of more qualified leads or re-engaging with leads you already have beats a large group of unqualified leads any day. While Google Adwords may be good for a lot of things, it's not great for generating small qualified lead pools without spending a lot of ad dollars. The growing number of more precise platforms, or behavior targeted programmatic solutions, can be a better place to start, especially if you're investing in inbound marketing methodology.