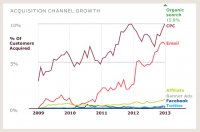 Are you a novice entrepreneur considering making investments to get your name out there? Or maybe your current business is in need of a push and you are looking for the most effective ways to advertise? This post will deal with the question how to do it online and we'll take a look at statistics, hard data and trends. We will also touch on which channels generate most sales and the sources of their effectiveness. And no such topic is complete without talking about how you can combine different marketing practices to achieve synergy and promote your brand online even more effectively, so let's get to it!
The main jobs of a marketer are increasing sales and building brand awareness. One path to achieve this is by generating traffic on your website. PPC (Pay Per Click) advertising in search engines will serve this purpose best, since it is an almost immediate way to drive potential customers to your website. Great results can also be achieved by SEO (Search Engine Optimization), i.e. search engine positioning – this, however, requires more time to produce the desired outcome. These two strategies are complemented by email marketing, which has proven to be the best way to build relationships with clients and make sales. Social media can also be of help here but let us start from the beginning...
Social media vs the rest of the world
In this day and age no one should be surprised to hear that a company that wants to find a place in the minds of consumers should be active on Facebook. Astute marketers take account of this fact and make substantial investments in this trendy channel of communication. However, there is much research that shows that being present on social media platforms does not translate directly into sales. Facebook users are not in a buying mode because this is not where the decision to buy a product is made. Also, let's not forget that Facebook is not always the best solution – for instance when there is not enough content or when your target group does not use social media. Yes, there are people without Facebook accounts!!!
Social Media works great in PR, opening the opportunity to engage clients in a conversation and getting to know your target audience. They come in useful in collecting email addresses for your database. This is because users can easily share their email addresses without typing them in manually when they are logged in on a social network. This, however, does not change the fact that for the purpose of sales it is the established online forms of advertising that prove to be best. These are SEO, PPC and email marketing. As it is clear from the chart below, it is these three channels that generate most online sales and, most importantly, their year-to-year effectiveness is growing.