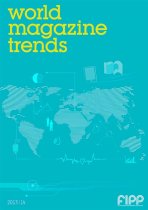 The Internet is still the fastest growing medium for advertising, an international survey found, showing an upsurge of 16.3% in 2012 and forecasts of an average of 15% annual growth for 2013 to 2015.
According to FIPP's World Magazine Trends 2013/14, "The prediction is that Internet advertising will increase its share of the ad market from 18.4% in 2012 to 24.6% in 2015 and that Internet advertising overtakes newspapers for the first time in 2013, exceeding the combined total of newspaper and magazine advertising in 2015."
World Magazine Trends 2013/14 (courtesy FIPP)
FIPP is the London-based Worldwide Magazine Media Association.
The 444-page survey said print editions of newspapers and magazines would continue to shrink at an average rate of 2%-3% a year, based on figures from the ZenithOptimedia agency.
PriceWaterhouseCoopers, which also contributed to the book, noted that digital revenue had seen considerable growth, from about $8.2 billion (8% share) in 2012 to an expected $15.2 billion (15% share) in 2015.
"This development is the same for both B2B (business-to-business) magazines (around 20% share of total revenue) and consumer magazines, " it added.
The survey indicated most publishers had invested heavily in creating an attractive online presence to readers and advertisers through traditional display ads, which accounted for more than a fifth of total Internet advertising.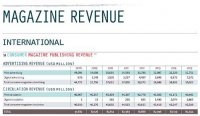 While the growth is pegged at 11%-13% a year, the problems are that online readers are worth less to advertisers than print readers since publishers have to compete for display revenues with every other website, it said, adding that real-time buying practices were eroding prices of premium content.
Needless to say, the fastest-growing Internet channel seems to be mobile, which by 2015 is set to more than double in size to $33 billion, or a quarter of all Internet advertising expenditure, ZenithOptimedia concluded.
Consumer magazine publishing revenue (courtesy FIPP)
In 2013, mobile advertising expenditure had grown 77%, rising from 9% of total Internet advertising to 15%, to reach $14 billion.
The hefty book is loaded with tables, figures, and infographics that dissect the industry in the minutest detail.
Cross-border launches (courtesy FIPP)
In a series of summaries, the FIPP book found that despite losses in print media in certain international markets, magazines were going strong in the Africa/Middle East region and seemed to benefit from upcoming economies.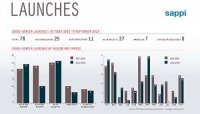 "Since 2011 revenue grew 7% and will continue to do so in the coming years, " it said. "In 2015 total revenue will have grown to , 886 million, a 17% increase compared to 2012."
The study divided the Asia Pacific region into two parts: the fast growing economies of China, India, Indonesia, Malaysia, Philippines, Chinese Taipei and Thailand and the more developed and advanced markets of Australia, New Zealand, Hong Kong, Singapore, Japan and South Korea.
Australian magazine adspend (courtesy FIPP)
It said advertising expenditure increased by as much as 6.2% in 2012, which according to ZenithOptimedia was due to fast growing economies.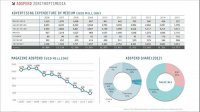 Within five years PricewaterhouseCoopers predicts double or triple digit digital growth figures for both consumer and B2B magazines.
In an older market like Europe that has had its share of economic woes, recovery from the global recession has been slow but Central and Eastern Europe improved faster than other parts of the continent.
While digital is growing in Europe, it still lags behind the rest of the world in compensating for print losses.
International summaries (courtesy FIPP)
In North America, the good news is that magazines were not as hard hit as newspapers by negative adspend revenues but they still limped compared to TV, which enjoyed the largest slice of the advertising pie.
The study predicted total magazine revenue would decline by 6% in coming years - an average of 1% per year.
But the magazine market was moderately positive and digital interfaces (mobile, tablets, Internet) were expected to lift the industry from the doldrums.
"The biggest challenge will be to compensate the inevitable losses of print revenue and to find ways to increase digital revenue in terms of absolute numbers, " it said.
In Central and South America, Brazil and Mexico got the lion's share, accounting for 45.9% and 14.5% of adspend in the region in 2012.
Although TV dominated the media landscape, magazines were going strong, the survey showed. However, PwC and ZenithOptimedia offered different figures.
"In 2015 the prediction is a growth of 6% (Zenith) or 20% (PwC), " it said, adding that digital penetration was slow and small due to relatively low Internet use in South America, which, in turn, affected the digital development of magazines in that region.