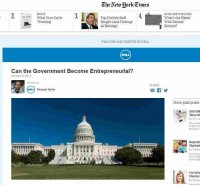 The New York Times unveiled a major redesign of its digital offerings Wednesday. With a new scroll feature, readers will never again have to click to read the second half of a story, and the site is crafted to appeal to a mobile audience.
But the redesign has also embraced a controversial shift in journalism: Some posts on the site that look like articles are reported and written by people working for the paper's advertisers.
The practice is sometimes called "native advertising" or "branded content, " with the idea that there is actual content — maybe in the form of an article, perhaps a video — created by or for an advertiser.
"Brands have the privilege now of speaking directly to their audiences, " says Stephanie Losee, a former Fortune magazine writer who is now managing editor of global communications for computer-maker Dell — and who oversees a stable of writers.
In the digital age, Losee says, advertisers have a lot of options. "Brands no longer had to rely exclusively on traditional publishers to gather audiences around content. We weren't calling it 'content' at the time, but that's what they were doing — so that brands could advertise to those audiences."
Now, Dell and other corporations will pay for articles they have commissioned to appear on The New York Times site — advertising intended to burnish awareness of a company rather than hawk its wares.
Native advertising is no longer a luxury or an experiment. Other papers are already in the game and the Times itself now derives more than half its money from subscribers.
That's thanks in part to a pay wall that requires frequent users to pay for access to the site, but also to ailing advertising revenues. Newspapers have lost ground to Twitter and Facebook and other social media platforms, where sponsored tweets and postings appear as part of a user's daily stream.
For the Times, the move has required great care. Michael Zimbalist, senior vice president for advertising products, says the paper has "put a lot of attention into how we're going to make it really clear to you, as a reader of The New York Times, that that story is in fact coming from a brand."
That begins, Zimbalist says, with the name the paper has given this content. "We arrived at the name 'paid post, ' which we're very happy about."
The word "paid" underscoring that someone paid for it, and "post" suggesting that it's content that could be worthwhile.
The material from Dell appears in a typeface that's similar to the paper's articles, but as Zimbalist says, it is very clearly marked with corporate logos and the legend "paid for and posted by Dell" at the top of the page.
"Expertise can come from anywhere and the great stories can come from all sorts of unexpected places — one of those places will be from brands, " Zimbalist says.