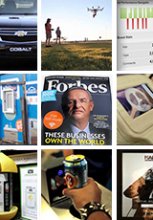 Here's a rundown of our top ten innovative Marketing & Advertising ideas over the last year.
1. Magazine ad offers free wifi to readers

Smartphones are everywhere these days, but finding that elusive free wifi connection to use them can be much more difficult. To advertise its Office 365 software, Microsoft teamed up with Forbes magazine and T-mobile to insert a miniature hotspot into selected copies of its May 6 2013 issue. The campaign, created with advertising tech firm Americhip, simultaneously promoted the validity of Microsoft's cloud-based program and gave Forbes' readership another reason to carry the publication with them – killing two birds with one stone.
2. In South Africa, drones repurposed to deliver beer to festivalgoers

Brand sponsorships at popular music festivals can be great for businesses, but often limit product choice for attendees. Looking to go that bit further to create brand engagement, Windhoek developed a system whereby revelers at the OppiKoppi festival – taking place in South Africa in August – can order a free beer through their GPS-enabled smartphone and promptly receive a can to their approximate location, delivered through the air via specially-repurposed flying robots.
3. Shopping cart-mounted tablet detects nearby items and offers recipes in real time

Having made our Top 10 Food & Beverage Ideas list last year for its innovative Recipe Receipt campaign, Hellmann's returned to provide another unique way to experience the supermarket. Trialled in Brazil, the initiative saw shopping carts fitted with NFC-enabled tablets. When users placed a Hellmann's product in their trolley, the display showed potential meal ideas they could make with the other items on the shelves next to them. According to the company, sales rose by 70 percent. This is a marketing campaign with serious potential as a future option for in-store advertising.
4. Thailand billboards can be used to build homes when they're not in use

It's clear that in the age of internet, consumers know a lot more about brands and how they act on their social responsibility. In order to present itself as a people-centered business, Thailand's HomePro DIY store collaborated with BBDO Bangkok to create The Other Side campaign. Since the country's homeless population often reappropriate road-side billboards in order to create makeshift shelters, the company decorated the reverse of their advertisements with wallpaper and fitted them with practical shelves and hangers. When they'd served their use as marketing tools for HomePro, they could then be used to brighten up the lives of those less fortunate.
5. Concept store enables customers to make and share their own digital 'look book'

Social media has arguably become an integral element to any business's marketing strategy, although there are different ideas on how it can best be used. For the launch of the new Karl Lagerfeld Store in Amsterdam in April, the fashion label tapped into consumer desire to share purchases with friends and family by placing iPads in changing rooms, loaded with an app that enables shoppers to take photos of their look, apply a filter and post online. The store also enables visitors to leave their comments on the Karl Lagerfeld Facebook page via tablets located around the space. A great example of combining the online and offline worlds.
6. Employees rewarded for getting involved in brands' social media strategies

Most companies rely on a dedicated team or individual to take care of their social media. Breaking apart this traditional way of working, Meevl set out to create a platform to help businesses include their entire workforce in online campaigns. Working on the premise that anyone engaged with the business might have positive ideas about how to promote the company, the system enables management to set competitions and prizes to encourage everyone to suggest ideas for social media initiatives. As well as boosting employee motivation, Meevl helps businesses to take full advantage of the creativity of their staff.
7. Site enables consumers to talk back to commercials

As any broadcast advertiser knows, sales figures only tell a part of the story of the success of television campaigns because the medium is essentially one-way communication. The social nature of the web is increasingly giving consumers a say and AdYapper's platform aims to provide this kind of open communication for those working in television advertising. Visitors to the site can watch, up- or down-vote and give their opinion on creative ads. By letting viewers join the discussion, broadcast advertisers can gain insight into the reasons why their campaign failed or succeeded.
8. At Rio carnival, beer cans recycled in exchange for train rides

A lot of social problems don't have easy answers, let alone ones that truly engage consumers and alter their behavior. It's probably rare that a promotional campaign for an alcoholic beverage can provide both solutions and benefits for its targeted audience. However, with its Beer Turnstile campaign, Brazil's AmBev – in collaboration with advertising agency AlmapBBDO – did just this. Offering partygoers at the annual Rio carnival a free train ride home in exchange for handing in an empty can of its Antarctica beer, the company simultaneously avoided rubbish on the street, ensured the cans were recycled, reduced instances of drink driving by 43 percent, provided attendees with free transport and promoted the brand, the carnival and the train operators as socially responsible businesses.
9. In Brazil, campaign offers test drives to broken down motorists

Personalized and targeted advertising is booming online thanks to innovations such as Google AdWords, but what about in the real world? The Rescue Drive campaign, conceived by Brazilian agency Monumenta for Orca Chevrolet, set out to create a marketing experience only for those whose car had broken down. Working with a local tow company, the brand was able to target test drives at consumers in need of a free lift home. As well as enabling them to try out the model at a time when they might be considering purchasing a new car, the campaign also took advantage of the positive feelings associated with the act of kindness.
10. In Spain, lemonade made cheaper when temperature rises

When the weather is hot, sales of lemonade go up – this is something that even entrepreneurial kids can understand. However, weather predictions aren't the best foundation on which to base a business. In order to bypass actually knowing what the weather will be like, marketing agency Momentum Madrid worked with Coca-Cola to create a vending machine selling its Limon Y Nada beverage, fitted with a temperature sensor that detected how warm it was in the location it was placed. When the temperature rose, the price of the drink was automatically reduced in order to offer smart discounts at exactly the right moment.