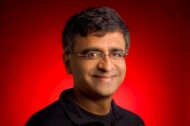 Google has gone through a lot of executive changes this year. Last month, the company's chief business officer Nikesh Arora announced he was leaving. And in February longtime ad boss Susan Wojcicki left that post to replace YouTube chief Salar Kamangar as the CEO of the Google-owned video service.
Google's senior VP of advertising and commerce Sridhar Ramaswamy
Ms. Wojcicki's appointment overshadowed another leadership shift. A year after being charged with running Google's advertising and commerce organization alongside Ms. Wojcicki, Google Senior VP-Advertising and Commerce Sridhar Ramaswamy had taken full responsibility for the division that accounted for more than 91% of the company's $55 billion in revenue last year.
The 11-year Google vet, who started in 2003 as an engineer on Google's search-ads team, now oversees search, display, video, analytics, shopping, payments and travel product lines. He discussed his new role in an interview below.
Mr. Ramaswamy's appointment coincides with an interesting time for Google's ad business. At the same time as Google expands its non-advertising revenue in areas like hardware and digital media sales, it's also establishing more cohesion among its advertising-related businesses. For example, YouTube's ad-sales division now rolls up into Google's larger ad organization. And Mr. Ramaswamy is also forging new ties between Google's advertising and commerce businesses.
On Thursday, Google is making two changes so that businesses can treat their ads like product listings and product listings like ads.
First, the company is bringing its previously mobile-only local inventory ads to desktop, so that people can see what products are available in nearby stores while on their computers. And second, Google is adjusting how advertisers list products in product-search service Google Shopping - which the company converted to a pay-to-play format in 2012 by requiring all listings to be paid for as ads - so that merchants can raise the profile of certain products to coincide with sales as they would on their e-commerce sites.
"If you're managing a back-to-school sale, you might want to do something different with backpacks and stationery, moving them to the front of the store, and this interface makes it very possible, " he said.