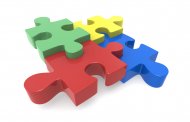 Google may be a global search giant, but there are lots of ways to leverage the power of search to promote your small business to local customers. If you haven't yet embraced digital marketing for your local business, Google is a good place to start.
Consumers' increased reliance on social media and online research to make purchasing decisions is helping drive the value of using Google to promote small companies. Yet, many companies still don't even have a website. In fact, nearly two-thirds (63 percent) of businesses do not yet have a website, Frederick Vallaeys, Google's AdWords evangelist, told BusinessNewsDaily.
Google Places is a good place to plant your flag, he said. These are free directory pages for local businesses; there are 50 million "Type in your business name in Google, " he said. "If a Google Places page exists, it will show up in the results."
When you're ready to invest in advertising, you can take advantage of Google's AdWords. This is self-service, keyword-based advertising that works on a cost-per-click basis. You only pay when someone clicks on your ad and comes to your site.
Learn with Google can help business owners get acquainted with Google's business side. Entrepreneurs can check out free video courses, read how-to guides and follow worksheets to promote their businesses online.
Here is a brief overview of Google tools that will help you get your business going in the digital direction.
Ad Words Express
Since many small-business owners don't have a lot of time or advertising agencies at the ready, this is a quick and simple solution. Business owners provide some basic information and Google creates their ad.
Google will also manage your ad, pushing it to the right people whether they're searching on laptops or mobile devices.
Google+ Your Business
Facebook has become an unstoppable marketing force for many businesses, and Google has its own version.
You can share links, photos and promotions with the right customers at the right times.
The posts can be public so people can find them using search, or you can use the Circles feature to tailor specific messages to specific followers. You can even initiate live video chats with potential customers who want to dig deeper.
Google Analytics
You need to know that your marketing efforts are not being wasted, and Google Analytics can measure your success. You don't need an army of analysts or even an enterprise to use this enterprise-worthy tool.
The free system allows business owners to track sales and conversions and measure your site engagement goals against thresholds. Once you know who is coming to your site and what they're looking for, you can write more highly targeted ads and strengthen your marketing initiatives.
Google Offers
Customers are still driven by deals and Google Offers matches your business with relevant customers in your area looking for discounts.
Customers prepay for these targeted discounts and small-business owners are paid a few days after the offer runs.
Google AdSense
While Google can drive customers to your business, it can also be a money maker.
Small-business owners can add custom search engines to their site and earn cash from ads on the search results pages.
With AdSense, entrepreneurs can also display ads that match their audience's interests on their website and earn from valid clicks or impressions.