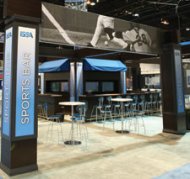 Take advantage of these special onsite promotion opportunities for ISSA/INTERCLEAN® North America 2015.
ISSA Sports Bar
$50, 000 SOLD
Located in a prime area on the show floor, attendees use this area as a meeting place to do business as well as a pit stop for a quick beverage. This area contains a full-service bar serving soft drinks and alcoholic beverages, with televisions streaming sports coverage throughout the day. Sponsor can provide corporate apparel for bartenders and place branded cups, napkins, and table tents around the sports bar seating area.
___________________________________________________

Badge Holder and Lanyard
$44, 000 SOLD
Attendees will carry your company name and promotional insert into the badge holders around their necks all through the show. Organizers will be distributed on site to all non exhibiting attendees. (Production included)
Specs:
Sponsor's company name will be printed in 1 color on the badge on at least one side of the badge holder.
Sponsor's company name or logo will be printed in one-color above the badge
ISSA will produce the badge organizers using sponsor's supplied images.
Badge Holder Ticket Promotion
, 500 (2 available)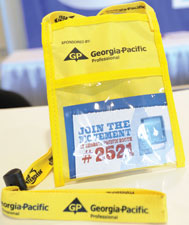 Promote your brand or drive traffic to your booth with a special raffle/prize ticket attached to attendee name badges where all attendees pick up badges. All promotional tickets will be distributed on site to all non exhibiting attendees with the name badges.

Brand Ambassador Backpack Greeters
Registration Area - $17, 500
Four greeters will promote your brand message while also providing a unique sensory experience during ISSA/INTERCLEAN trade show days. Greeters will utilize backpacks equipped with LED lights, video screens, and scent distributors to communicate your message. Greeters will be allowed to distribute literature/small giveaways. (Production costs included)
__________________________________________________
Segway Greeters
Registration Area - $17, 500 (Exclusive)
Four greeters will promote your brand message on four Segways during ISSA/INTERCLEAN tradeshow days. Each Segway displays your message on high-visibility acrylic shields and is operated by skilled and courteous professionals who have the ability to distribute literature or product samples. (Production costs included)

Registration Bag Bin Placement
, 500 SOLD
Place your message on a minimum of 5, 000 attendee literature bags located in two bins in themain entrance lobby. Sponsorship fee includes production of signage and labor for stocking literature bags.
Specs: Sponsor's company logo and booth number will be displayed on the bag bins. Literature bag artwork is subject to ISSA approval prior to production.
_____________________________________________________
Wi-Fi Sponsorship
$10, 000 (Exclusive) SOLD
Sponsor Wi-Fi access for attendee use throughout the ISSA/INTERCLEAN exhibit hall and ISSA meeting space.
Specs: Sponsor may customize the username and password needed to access complimentary Wi-Fi.
____________________________________________________
Hand Sanitizers
$11, 000 Lobby Area SOLD
$11, 000 Trade Show Floor SOLD
Place your branded hand sanitizers at strategic locations throughout the event in high-traffic, public areas.
Specs: Sponsor provides dispensing stations and is responsible for placement and refilling arrangements/costs coordinated with the convention center. ISSA and the convention center must approve station design and signage.
______________________________________________
Lobby Entrance Door and Window Clings
$17, 500 SOLD
Specs: Entrance Door Decals dimensions: 20" x 20" graphic size. Window decals are produced, installed and removed by ISSA and the artwork must be approved by ISSA.