We know how it is. You've spent a lot of time making your site everything it is. It's engaging. Smart. Maybe even funny. Yet it's never found that special something. Sure it's seen other networks – these days, who hasn't? – but it hasn't worked out. Maybe it was ad quality, or poor service. If you don't want to talk about it, we understand. But your site has learned. It's grown. It's ready for a real relationship.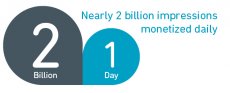 The smart choice for publishers
Why do we have relationships with 74 comScore's top 100 sites? It's simple, really. We deliver results. Here's how:
Top advertisers
The Ad.com network roster is unmatched and includes the biggest and best brand names in the industry. If you're looking for a specific set of advertisers, we offer ad blocks by advertiser, industry, media, and category to ensure the best fit for your site.
The right ads
Ads should fit with your site, have relevance to your reader, and pay you appropriately. We care about your site, which is why we won't cheapen its appearance or reputation with poor quality ads. We care about your visitors, too. How they respond to the ads we deliver makes all the difference.
The best technology
Your inventory is optimized by the best decisioning engine in the business: AdLearn. Plus, we never stop improving things – from nuts-and-bolts technology to user interfaces – in our efforts to better your experience and increase your earnings.
Consultative approach
Whether you're seeking general guidance or complex, custom analysis, our team is at your disposal. With over a decade of experience and thousands of sites in our network, we know how to help you get the most from your site.