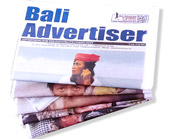 Bali Advertiser is a freely distributed advertising based newspaper serving the Expatriate Community of Bali. The paper currently consists of 72-86 pages printed every two weeks, with a circulation of 20, 000 copies per edition. Display ads are available in black & white or color.
Bali Advertiser offers free private classifieds, paid display ads, real estate, employment and personal ads. You can place an ad at our office, online, by phone, fax or e-mail. We also offer free display ads to aid programs and charitable organizations.
You may subscribe to the print edition with delivery by mail every two weeks anywhere in the world.
About the Expatriate Community in Bali: While no one, including the government, has exact records, it is estimated that there are more than 10, 000 expatriates living full or part-time on Bali. The reasons people are on Bali include owning a business, employed in some form, doing export of Indonesian products or people who are retired here. There are many families resident here as witnessed by many international schools that are expatriate administered and teach only in English. In addition there is a French School for French speaking children. There are many community groups active in Bali. Please click on Community Groups in the menu to view the complete list.