Pay-Per-Click, or PPC is an advertising model where advertisers pay publishers for ads on their websites. Each time the ad is clicked, the advertiser pays a fee. PPC most often refers to Google AdWords, where a business owner is able to appear on the first page of Google by simply bidding on the keywords in their category. However, PPC can also refer to other sites like Facebook, LinkedIn and even sites that allow banner advertising.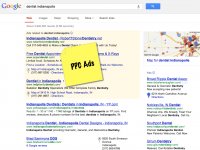 Why it is awesome…
PPC allows businesses to rank on the first page of Google without waiting or gambling on Search Engine Optimization. PPC allows advertisers to set a budget and choose exactly which keywords for which they'd like to rank. PPC data shows exactly how the investment is spent and what results the campaign is geting. PPC campaigns can be turned up when results are good, or turned down or even paused. Basically, PPC allows for total control of budget, goals and full transparency of results.
Note to anyone who says "I don't ever click on the paid ads" … The majority of Google's income comes from PPC advertising. Someone is clicking on PPC ads. Also, consider that most of the time when you are searching, you are not shopping. In those cases, it wouldn't make sense to click on a paid ad. But when a person is shopping for a specific product or service, PPC ads are often the most relevant and most clicked results on the page.
What you should know…
Budget and quality score pay a huge role in the success of any PPC campaign. If the keywords for which you want to rank are very competitive, you may need to target long tail keywords or your budget will run out early in the day. To improve quality score (and thus lower the cost of each click) some onsite optimization may be required.
How we do it…
We build strategic, robust campaigns that target hundreds, sometimes thousands of keywords for the best results. We watch your results and constantly adjust keyword bids, ad copy and other elements of the campaign. The old "set it and forget it" method is not awesome. Cookie cutter campaigns are not awesome. Everything we build is customized to your needs. It's our goal to improve your campaign each and every month. Like SEO algorithms, PPC strategies change too. We stay up to date on those changes and adjust your campaign accordingly. When applicable, we create mobile campaigns. We also geo-target your ads to only appear for customers that you can service.
Every be awesome digital PPC manager is a Google Certified Professional.
You will have unlimited email and phone support with your PPC manager – no additional consulting fees.
Investment…
The majority of any PPC investment is for clicks. Click prices are determined through a bidding system. This means that every campaign has a different budget. We can provide estimated number of clicks available for your given keywords in your given area (Or you can use the Google Keyword Estimator Tool to see for yourself.) With this information, we can tell you the most you can spend on a campaign. However, you are not obligated to go after every click. We'll help you understand what kind of results you can expect from any budget. As for our fees to manage your campaign, we think you'll find them very reasonable and if you're currently running your own campaign, it is likely that we'll be able to improve results over and above our cost to manage your campaign.