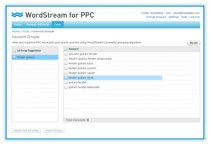 If you're advertising via search, you're on the right track. AdWords is a highly trackable medium that provides incredibly relevant messaging and tremendous returns.
But in simply launching an AdWords campaign, you're actually only able to enjoy a fraction of the relevance and return you might otherwise. The fact of the matter is, PPC software can help to automate mundane PPC tasks while providing management solutions you can act on.
The key is that that software be built in the same mold as AdWords itself. Through increased relevance and efficiency pay per click software should provide you with:
Maximized results - Drive qualified traffic, relevant clicks, and streamline workflow.
Minimized unwanted spending - Prevent irrelevant clicks and reduce time spent on laborious PPC tasks.
WordStream's pay per click software provides precisely these advantages.
Drive More Profits Through PPC - Try Our Platform FREE

Get instant access to WordStream's innovative Quality Score and AdWords Account Management tools through our FREE 7-day Trial. No credit card required.
In the coming paragraphs, we'll show you why traditional paid search marketing software isn't enough, and how you can use WordStream to maximize your pay per click ROI.
How Traditional Pay Per Click Falls Short, and How Pay Per Click Software Automation Can Help
As we mentioned, simply using a pay per click advertising platform such as Google AdWords can offer you a highly effective marketing method. But try to manipulate the system without aid of various tools, and you'll likely begin to feel overwhelmed, or frustrated by how limited you are in terms of managing your ads and keywords.
A PPC program like AdWords leaves all of the management and analysis up to you. It provides you with the ability to create pay per click ads, and to place your pay-per-click keywords into different categories, but you have to do it all by hand. This takes an immense amount of time and organization, and makes real-time adjustments and campaign expansion very labor-intensive.
Once your keyword list grows to encompass a broader audience, there is no way you can physically keep track of and make decisions about the thousands of keywords you'll need to use in order to achieve your highest ROI. You're not able to:
Instead, you end up forfeiting qualified traffic that will go to your competitors – competitors who are using superior PPC software solutions like WordStream.
WordStream eliminates the manual labor and tedious, repetitive tasks involved with search engine marketing. Using WordStream as your PPC management software means you're still reaping the benefits of traditional pay per click software, while coupling it with the immense added benefits of automated management and analysis solutions.
Use WordStream's Pay Per Click Management Software to Reach Your Audience
Let's look at keyword organization. This is a vital (and typically time-consuming) aspect of successful PPC. Having researched keywords, we now have to take those keywords and chop them up into closely related groups, so that we can write ad text for each Ad Group. The more granular you can get with your messaging, the more targeted and inexpensive (due to improved Quality Scores and lower CPAs).
One PPC management component of the WordStream application is the software's keyword grouping tool, which helps you to take all of your data and organize it in as little as three clicks of the mouse.
Click #1: Segment your keywords with suggestions provided to you by WordStream based on the composition of your keyword list.
Click #2: Create groups from the keywords that you're segmenting to file away all keywords on your list that match into an organized, hierarchical tree. Suddenly, your overwhelming list of keywords becomes a series of targeted, qualified keyword groups, ready to be channeled into Ad Groups to pull in traffic to your site!
Click #3: Create an ad group from your hierarchy, and integrate directly with Google AdWords, managing all of your campaign data and organization in one easy to use interface by linking WordStream to your Google Account.
This process takes less than five minutes and enables you to do what you could never have done by hand. By using WordStream to find a constant stream of long-tail keywords and group them accordingly, you can find keywords highly qualified searchers are typing that you'd never know about otherwise.
Pay Per Click Software That Lowers your Cost and Raises your Results
AdWords ppc tools are helping ppc managers everywhere to collect and filter keyword data to help sculpt better pay per click campaigns. While these powerful tools are popular due to their ease of use and innovative approach search engine marketing, they do still have some inefficiencies, as we've outlined above. Using integrated pay per click software can help bridge the gap between having all the data, and knowing how to make the best use of it in your ppc campaigns.