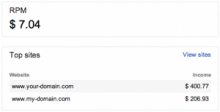 How to earn money with AdSense
AdSense is an ad network belonging to Google. It is the biggest ad network in the world and the main service through which Google can display ads on a lot of websites. The secret behind AdSense is its simplicity. As a website owner you just need to sign into your account, create your first ad, and insert the source code on your website. The last one is the trickiest part for non-technical publishers, but still a lot easier than what some other ad networks ask you to do.
At the beginning there was just one way of getting paid with AdSense and this was on a per click basis. This means that you earn money each time a visitor to your site clicks on an ad. It doesn't matter what he did afterwards on the target website. But before you start thinking about it: When Google figured out that some people tried to raise their payments by clicking on the ads on their own sites, they started penalizing for such behaviour.
68% of the click price
How did Google AdSense determine the amount you receive per click? Google also runs which is kind of a mirrored service to AdSense. On AdWords advertisers running shops, services, or other marketers create ads and tell Google to publish them on either the Google search engine or in the display network, so all websites belonging to the AdSense network. 68 percent of the amount an advertiser pays per click on their ads on your site is your income. The rest is Google's commission fee.
This still isn't all you need to know about how much AdSense pays you. The costs per click are calculated in an auction. Every ad that is somehow in the pool to potentially be displayed on your website takes part in it. In this auction, it isn't just the highest bidder that wins, but the winner is also determined by his "quality". Without going deeper at this moment just remember that Google will ultimately run some smart algorithms that try to get the highest income per thousand impressions (return per mille = RPM) for you (and them).
CPC, CPM, CPE
In addition to the cost-per-click (CPC) model, there are two other bid types. Cost-per-thousand-impressions (CPM) is an income model where advertisers pay you a fixed price per thousand ad impressions. No click on them is necessary for you to earn something from AdSense. This bid type only works if advertisers choose on AdWords that ads should be displayed only on your website. Before they can do that you need to ad custom channels. I might cover this in an upcoming article, so you might want to subscribe to the newsletter so as not to miss it.
The most recent bid type is cost-per-engagement (CPE). In this case the advertiser is defining an action the visitor needs to fulfill like expanding the ad, watch a video ad, finishing a poll, etc. This form is so new that the documentation from AdSense doesn't even mention it. As much as I would like to increase income from AdSense, we will have to see how visitors react to this, because the new engaging ad units might be a bit more jarring than the classical text or image banners.
Which is the best bid type?
You are not able to select the bid type yourself. Google calculates the best income when combining them based on what runs best on your website. If advertisers know about your good reputation and book CPM campaigns on your website, they might outrank your CPC income. If your CPC banners are well placed and your content is written for valuable topics like finances, your CPC might be unreachable. Lets see how the new CPE ad types kick in. The first AdSense accounts I have seen them in look very promising.
Should I use AdSense?
Once the ad code is inserted in your site, you are ready to earn money with AdSense. In practise, there is just one little problem for most small websites: to earn money with any kind of ad type you need traffic on your website.
This is the point where I normally stop new publishers who ask me for consulting. You are just building your content and reputation, have to fight for every newsletter subscription and the absolute traffic is below 10.000 pageviews a month. In this situation you should consider waiting with ads on your website. They might not only drive potential visitors away, but you also need time to manage and optimize your ads. Are there exceptions? Yes, there are. You will know when you see one.
Some website owners explain their banners in terms of their costs for hosting and the domain. I personally consider both to be so cheap nowadays that any hour practically worked for free on your project costs you much more than those things. If you don't need those extra few cents per hour wait with AdSense or any other ad network until your website has grown significantly.