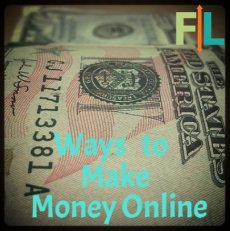 Once you decide to start a website, you have to think of ways to make money online. We all have different interests and talents, and there are many different possibilities for earning money on the Internet. Here are some of the ways Shane and I have monetized our websites.
Advertising is one of the easiest ways to make money online. If you use Google Adsense or another another online ad network, it's very easy to copy and paste the ad code onto your web pages. Ads will automatically display based on the interests of your site visitors. If someone clicks the ad, you get a small amount of money for referring that person to the website being advertised.
It's really exciting to see that someone has clicked an ad on your site. You would have thought our first $0.11 on Adsense was $11, 000 (see how that $0.11 changed our lives in this post). Be sure you don't click your own ads – Google will penalize you if there are any questionable clicks.
If your site is successful, you may have the opportunity to seek out private advertisers. Private ads can result in lots of revenue for your online business. We know of sites that charge hundreds, even thousands of dollars selling private ad space.
You'll usually find private ads on the sides of websites, in squares or rectangles. Companies pay you (usually monthly or quarterly) to have their business featured on your site. If you have a lot of visitors, those ad spots can be very valuable.
We have not really sought out private advertisers for any of our sites yet. Finding advertisers takes time, and we've chosen to spend most of our time creating content. There are online advertising agencies that can handle this for you in exchange for a percentage of the revenue.
2. Affiliate Links
Another fairly easy way to make money online is by using affiliate links. This means you find a product or service to promote on your site. If someone clicks your link to that product or service, you'll receive a percentage of the sale. Depending on the final price of the product, affiliate commissions can be very lucrative.
You can seek out relevant products to promote on affiliate networks like CJ Affiliate or Clickbank. You can also link to products on websites like Amazon.com. There are LOTS of affiliate opportunities out there. The keys to affiliate sales are establishing your site as an authority and choosing products that are relevant and helpful to your audience. If your audience trusts you, they will purchase things based on your recommendation. This benefits you and the company you're linking to.
Most affiliate services require you to disclose your affiliate relationship to your readers. Disclosure is also required by law. Just be aware of this, and make sure you read the terms and conditions of each affiliate agreement!
3. Create Products or Offer Services
This money making method has been the most successful for us. Think of something you could create, and sell it to people for a profit. This business model has been around forever, but the Internet has made it possible to sell your product or service to a world wide audience.
The only limit to what you can sell online is your imagination. Think about your interests and expertise, create a product, and market the product. There are LOTS of ways to market your product and get it to the consumer, but that's another post for another day.
We have been the most successful selling information products like e-books and "how to" videos. One of the best parts about creating these digital products is that overhead is extremely low and there's nothing to ship. The customer pays you and you email them a link to view your content. Everything is automated, so you can actually make money 24 hours a day. You can even make money while you sleep!
The process was not easy, and it took a LONG time to finish, but it was definitely worth it! I probably did over 100 hours of work on one particular product, but it has sold over and over again and will continue to do so until I decide to stop selling it.
This is the concept of investing time instead of trading time for dollars. Sure I invested 100 hours of time into a product. But once the product is finished, I don't have to work on it anymore and it keeps making money forever! We make money every day from products we made two years ago and haven't touched since.
These are just a few ways to make money online. The possibilities with online business are truly endless.