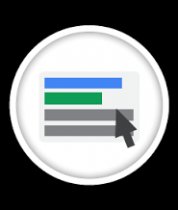 Choosing a bidding strategy based on your goals
Every time someone searches on Google, AdWords runs an auction to determine the ads that show on the search results page, and their rank on the page. To place your ads in this auction, you first have to choose how you'd like to bid. Try choosing a bidding strategy based on your goals, like whether you want to focus on getting clicks, impressions, or conversions.
Focus on clicks on your ads.
This is known as a cost-per-click, or CPC bid. We recommend the CPC bidding method if you want to drive traffic to your website.
Focus on viewable impressions, or the number of times your ad shows in a viewable position.
This is known as a cost-per-thousand viewable impressions, or vCPM bid. We recommend the vCPM bidding method if you want to increase awareness of your brand. Note that vCPM bidding is available for Display Network campaigns only.
Focus on conversions, or when people take a specific action on your website after clicking on one of your ads.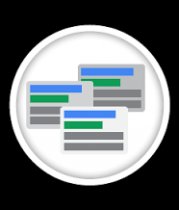 This is known as a cost-per-acquisition, or CPA bid. We recommend the CPA bidding method for seasoned AdWords advertisers who are interested in conversions, like purchases or signups.
AdWords essential
The auction: how Google decides which ads to show and their order
These are the different bidding strategies that you can set. Read the section below to learn more about choosing a bidding strategy.
Choose a bidding strategy
Most people starting out in AdWords use the basic CPC bidding strategy, which means they accrue costs based on the number of clicks they get on their ads.
If you use the CPC bidding strategy, the amount you're charged per click depends in part on the maximum cost-per-click bid you set in your account, also called "max CPC" bid. This represents the highest amount that you're willing to pay for a click on your ad (unless you're setting bid adjustments, or using Enhanced CPC). In fact, the most you'll pay is what's minimally required to hold your ad position and any ad formats shown with your ad (including any applicable service fees that may apply to Display Network campaigns). So you'll often pay less than your maximum bid. The actual amount you pay is called your actual CPC.
Example
Let's say you've set a maximum CPC bid of US$1 for your ads. The most you'll pay when a customer clicks your ad is $1.
Control your costs
Now that you understand the basics of how costs work in AdWords, let's look at the ways you can control your costs:
Set a daily budget to control how much you spend View your cost and payment history
Your AdWords account's billing "Transaction history" page provides easy access to your billing information. View daily advertising costs, payment details, and much more. Learn more about how to access your billing information.