Welcome to Chef Quick. Advertise your chef jobs free today! We're different from other job sites. You can post an advert which includes as much text as you need and upload your existing branding and logo completely free. We only advertise Chef jobs. Your ad won't get lost in the noise like many generic job sites. You can choose to post your chef vacancy FREE for 14 days or select from our competitively priced upgrades to make your ad featured and let it stand out from the crowd. You can post 3 FREE ads per month. Ready to get started? Register as an employer by following the link below.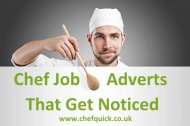 High Quality Chef Job Ads
Our ads are clearly presented and easy to create using our simple ad management system. Simply fill in your Company profile, your job details, add your company logo and tell candidates more about your business. If you're a recruitment agency, large unit or part of a group and require several ads you'll find our multi-posting packages extremely competitive. We can tailor an individual package to suit your needs.
Please get in touch for a quote:
Social Media Promotion
We also promote your ads through our social media, so even if you don't have time to be active on Twitter, Facebook or Google plus we can take care of it for you. If you are active, amplify your reach with RT's and mentions from us. All ads have a tweet button which allows you to click and share your chef job vacancy with a link and description.
We are very sociable too and share more than just chef jobs across our social accounts. Like us, follow us, plus-1 us, pin us and engage with us!
Complete Coverage
No matter where you are we can help you find the right applicants for your jobs, whether you're looking to advertise forin Scotland, Head Chef in or Chef de Parties in Birmingham we can help target your advert. Maybe you run a hotel in Halifax or are a caterer in Cambridge who needs a Commis Chef, indeed any hospitality business with a chef recruitment need, we can help.
We work very hard at making our site visible online and so when people search for chef jobs they find us, and your vacancies. You will find Chef Quick convenient, and easy!