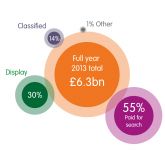 Value:
Recommended link: Latest UK online advertising spend research - IAB
In April 2014 the IAB and PwC published their regular survey giving full-year figures for online advertising in 2013.
We recommend using this annual research on online advertising to benchmark your investment in online media with other organisations in the UK. The main headline which should prompt examination of brands are reaching their audiences on mobile devices is that:
Mobile advertising spend doubled in the UK in 2013, passing £1bn
Other headlines from the latest ad spend report are:
Across all categories advertising on the internet and mobile phones overall increased by 15.2% or £853 million to £6.30 billion in 2013 – up from £5.45 billion in 2012.
Video advertising grew by 62% year-on-year to £324.9 million. Video now accounts for 18% of all online and mobile display advertising.
Mobile now accounts for over one third (35%) of total digital social media advertising
Tablet-dedicated advertising has grown more than 400% to reach at least £34.4m in 2013, which is up from £6.8m in 2012.
Percentage of overall ad spend on digital media advertising?
This research can be used to have an impact when discussing with colleagues how much a company should spend on digital media. Back in the 2011 IAB report it was reported that more than £1 in £4 of ad budgets were spent online for the first time and online ad spend is now closer to 30% of all spend although the figures weren't disclosed in the latest announcement.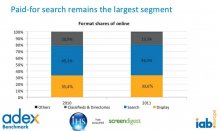 We know many organisations spend significantly less than 25% of their communications budget on online media, but this may well be right for their market...
However with £3 in £4 still spent offline in traditional media like TV and print advertising it underlines the continued effectiveness of traditional media and the need to integrate these with online media.
Our summary of percentage spend on different ad formats for UK advertising budgets
The research shows the most popular online advertising tactics, but beware the methodology - spend on other digital marketing channels such as affiliate marketing, SEO, content marketing and online PR/Social media aren't included - it's pure media spend only..
This is the breakdown of different Internet advertising types:
Paid search advertising: Paid for sponsored listings such as AdWords maintained their position as the largest single format with a 55% share of digital advertising.
Display advertising: Display advertising accounted for 30% of spend, similar to previous years.
Classifieds : Online classified ads important in recruitment and auto for example account for 14% of spending.