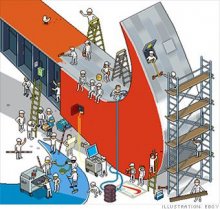 How the legendary brand blew up its single-slogan approach and drafted a new playbook for the digital era.
So is it working? Is Nike's massive digital push a true replacement for its marketing past? Its unconventional approaches have won accolades from insiders. "They have their finger on the pulse of what their customer is looking for, " says David Carter, executive director of USC's Sports Business Institute. Institutional investors who pay close heed to Nike's subtlest moves have voted in favor of the changes: The company's stock has returned 120% over the past five years as the S&P 500 index (SPX) has returned just 2.5%.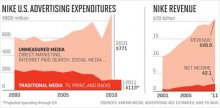 That's not to say everything has been a slam dunk. Nike shut down its Joga network after the last World Cup game in 2006, confusing the million-plus members who'd signed up for it. Its Ballers Network, meanwhile — launched in 2008 as an app that let basketball players organize street games — recently had less than 300 users in the U.S.; a recent wall post was a teenager complaining he couldn't get it to work. And critics say products like the FuelBand and Nike+, while dazzling, are more about keeping Nike's retail prices high than innovating.
In public Nike executives will protest this characterization. But if running shoes continue flying off the shelves, they won't blink at the criticism. That's exactly the kind of shrewd marketing attitude that drove Nike's past success. After perfecting the art of big branding, it's moving on to a world in which its consumers want to be told less and just do more. Which, when you think about it that way, might not be such a big change after all.