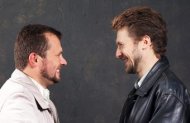 Meet other business owners by attending local business club gatherings.
Meeting image by Mykola Velychko from Fotolia.com
Advertising is a key factor to ensuring your small business success. Advertising lets prospective customers know your products and services exist because if no one knows your business is there, no one will buy from you. The expense of advertising can be challenging for small businesses that are tight on cash flow or startup funds, so it's important to find as many free ways to advertise your small business as you can in the beginning.
Business Cards
Pass out your business cards to everyone you meet. Give a small stack of the cards to friends and family, and have them pass those out to people they meet as well. Business cards and stationery shows potential customers that you are a professional, and it gives them a miniature advertisement they aren't as likely to throw away.
Vendors
Talk to your professional and personal vendors-printers, mechanics and hair stylists for example-and ask if they have a need for your services. Leave business cards with them as well, and if they have bulletin boards for local businesses to post cards on, ask if you can add yours there as well.
Related Reading: Cheap Ways to Advertise Your Business
Socialize
Find local small business clubs and groups that get together on a regular basis, and attend those gatherings. Many towns and cities have small business breakfasts once each month for example, and local Chamber of Commerce meetings. Attend those meetings and introduce yourself to everyone. Hand out business cards liberally as you explain to people what type of small business you operate so they'll know who to contact when they need those services. Pick several clubs or organizations that you like and attend their meetings and events regularly. As other members become familiar and friendly with you, they're more likely to think of you first when they need the services or products you offer. People who know and like you are also more likely to refer others to you when the situation arises.
Samples
Send out samples of your work to other businesses and individuals who buy the types of products or services you offer. If appropriate, give demonstrations of the type of work you do at local libraries, or conduct free training sessions to teach people how to use tools you use in your business.
Referrals
Ask existing customers to provide you with referrals to their friends, family and business associates. Word of mouth advertising is a powerful way to get free advertising for your small business, because an existing level of trust exists between your customer and the person they're referring, so that referral is more likely to use your services.
Write
Write expert articles or a book related to the topic of your small business. Articles can be contributed to local newspapers and trade magazines, and a book can be self-published online. Once you have articles published, ask the publisher for permission to distribute the article to friends and colleagues. Get several print copies of your book and distribute these around at business gatherings and to friends and family as well. Your name attached to an expert article in a magazine or attached to a printed book lends credibility, and can be an advertisement for your company for years to come. Your printed writing also opens up more free advertising opportunities in the form of publicity.