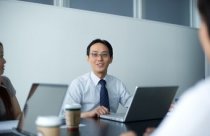 Small businesses can advertise online for free.
Ryouchin/Digital Vision/Getty Images
The Internet continues to revolutionize the advertising industry, opening up high-impact, targeted opportunities for advertisers at a fraction of the cost of traditional media. A good deal of Internet advertising can be done for free, which is ideal for local small businesses with slim marketing budgets. Common Internet advertising strategies for local small businesses include search engine optimization, banner swapping and the use of social media.
Search Engine Optimization (SEO)
Search engine optimization is the process of creating your company's website and blog so as to rank it higher on popular search engines when Internet users search for specific keyword phrases. You can hire a specialist to make your online presence as optimized as possible, or you can take the time to fine-tune your website yourself. Research possible keyword phrases using a tool such as Google's Keyword Tool, and place targeted keyword phrases in your meta-tags, titles, internal links and leading text on all pages. Increase the number of relevant, inbound links to your website to boost your search ranking even further. Increase traffic to your website by posting relevant information on discussion forums and other online communities.
Banner Swapping
Contact other small businesses in your area and offer to place a banner ad for their company on your website if they will do the same for you. This can be a highly cost-effective way to spread free advertising messages online to local audiences, but you must limit the number of ads you place on your own website to avoid making it appear cluttered. Plan your banner swaps strategically to partner with businesses that have a wide reach in your target market.
Related Reading: Ways to Advertise a Small Local Business
Free Online Directories
A large number of online business directories list all businesses in a local area, a specific industry or both. More often than not, these websites rely on advertising revenue to earn a profit. This means the more content they have to offer, the more money they make in the long term. Because of this, most online business or service directories will be more than happy to list your company for free, but you have to take the initiative to reach out to them.
Social Media
Social media can be a powerful tool to facilitate two-way communication between your company and your customers. Establish a wide local following on social media outlets, and use the outlets to send advertising messages; announce promotions and events; obtain feedback from customers; and share photos and stories of outstanding promotions, events or public relations activities.