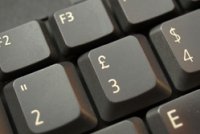 Getting noticed among thousands of other businesses is the key to selling goods online. Pay-per-click advertising can not only attract attention, but can go a long way towards converting interest into sales, as Simon Wicks reveals
"A guy selling air conditioning units noticed there were no adverts on Google under 'air-conditioning units', so he created one, " recalls Chris Lake of Econsultancy, an ecommerce publisher and trainer. "A big hotel chain had a breakdown, typed 'air-conditioning units' into Google and he won a £12 million contract. He only spent a few pennies on the ad."
Whilst it is unlikely you will succeed on this scale, if you can put your business in front of a potential customer at the very moment they want to buy, your chances of making a sale increase dramatically. With the right blend of planning and initiative, pay-per-click advertising can boost your profits, cost effectively.
"These are the 'Sponsored links' on search engine pages, " Lake explains. "The companies listed here pay to appear under a particular search phrase, but they only actually pay when somebody clicks on their advert. You bid for position so, broadly speaking, if my advert is more relevant or I offer more than you for a potential customer's click, my advert will appear above yours."
Your costs are likely to be driven by the competitiveness of your market, the value of your product and your regular marketing spend. The more competitive your market and the more expensive the product you sell, the more you will have to pay to feature prominently in the listings.
The amount you are actually willing to pay-per-click, however, should be determined by your regular marketing budget and your conversion rates through your online marketing and sales channel. For example, if you normally set aside 10% of the retail value of the £100 iPods you sell for sales and marketing, you should stick to this.
If you know that one in ten visitors to your site will buy an iPod, that suggests you should pay £1 per click - which amounts to £10 for every sale, or 10% of the retail value of the iPod. In other words, you stick to your budget.
"Before you start, think about what you want to achieve, " Lake counsels. "Are you trying to sell a product, drive traffic to your website or get subscribers for your e-newsletter? Knowing what you want will determine your expenditure and which search phrases you bid on. Then you just follow simple steps."
Work out your goals. Do you want to make more sales, encourage sign-ups, increase enquiries? Be clear about your aim.
Decide which search engine to advertise with - Google AdWords and Yahoo Bing Ads are the most popular. Sign up and create an account.
Set your bid for different keywords and select your daily, or monthly, budget.
Write your advert and link to a relevant 'landing page' on your website which makes a purchase quick and easy. Include a description, price, shipping costs and a 'click to buy' button.
Watch closely.
"Think about the buyer's journey, " advises Lake. "They'll go from typing 'iPod' to 'iPod reviews' and then 'iPod 80GB black'. This is when they're ready to buy, so bid more on phrases that maximise your chances of making a sale.
Keeping tabs on your pay-per-click campaign
Using online tools from your search engine can help you to meet your marketing goals more effectively. Their free analytical tools will enable you to see exactly where your visitors are coming from - whether that's from pay-per-click adverts, regular search engine listings, referrals from other sites, and so on.
Knowing which channels - and which search phrases - are successful will help you refine your approach and direct more resources towards methods that work for you.
"Once you hit on a successful formula for converting interest into sales, spend more, " Lake urges. "Pay-per-click is like a supermarket putting fruit at the front of the store - you put the right thing in front of people at the right time, " he concludes.