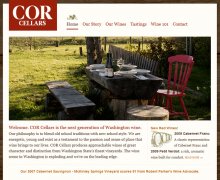 Does this situation feel familiar? —
Your web designer reckons your site is outdated. It makes you look amateurish. If we're being honest, we might even say it's downright ugly and you should be ashamed of attaching it to your brand.
The solution?
A redesign, of course. Not just a few tweaks, mind you, but a reinvention, taking your tired old website and bringing it into the modern day.
It'll have snazzy vector paths, cute cartoon scenes, jQuery carousels, full-page high-resolution background photos, the works. By the time you're done, you'll have a breathtaking design that cost you a fortune to create—but you shouldn't hesitate, because it'll be worth it.
Why?
Well, check out the reasons!
1. Sites with images look good, and people enjoy eye-candy, so they're more likely to browse around
2. Images are attention-grabbing, so new visitors won't hit the back button
3. An eye-catching site impresses prospects, and impressed prospects are more likely to buy
4. Flashy images show that you're hip and modern, and people trust hip and modern companies—so you get more sales
5. In summary, for every bit of eye-candy on your site, your sales will increase an average of 16.5%*
Wrong, wrong, wrong!
Many years ago, advertising legend David Ogilvy commissioned research into the use of images. He wanted to be sure that when he wrote ads, the images in them would increase response rates. The prevailing wisdom was that any kind of image would attract attention, and therefore get people reading. But Ogilvy wasn't so sure.
What he discovered from testing various kinds and placements of images was quite different to the popular opinion of designers—then and now:
Images can reduce readership.
Yes, they catch people's attention. But without some very specific conditions in place, that attention does not translate into people reading the body copy—or coughing up cash.
You might be wondering why you should care about research done in offline advertising. Well, Ogilvy's ads were specifically structured to look like news articles. They bear an uncanny resemblance to most forms of online content. And the best practices he discovered for images revolve around broad psychological principles, rather than medium-specific tactics. So they apply to all kinds of content—not just advertising copy.
What Ogilvy Discovered
Here are four principles Ogilvy's research turned up. If you ignore these principles, your images will generally reduce your readership. If you apply these principles, your images will increase your readership.
Of course, they are just best practices—a sensible place to start. The only way to know for sure how they will work for you is by testing.