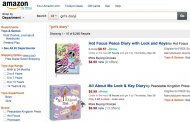 Hello and greetings from Advertising Week 2013! The morning of Day 2 welcomed Lisa Utzschneider, Vice President of Global Display Advertising at Amazon Media Group, to the stage as she explored with her crowd the intersection of e-Commerce and advertising – namely, how Amazon is mapping its own insights and takeaways from e-Commerce endeavors to its native advertising platform. Read on for a full recap.
Tess's Summer Journal, Or, An Example Of How E-Commerce Expectations Are, By Now, Basically Innate
Lisa began with a story about her daughter, Tess, who one day expressed utmost eagerness about purchasing a summer journal. Lisa whipped out her smartphone and began searching for products (on Amazon) via keyword permutations of journal (diary, diary with lock, etc.). It seems this is just what Tess was expecting. Together, they reviewed the items, but the thumbnail product images were too small for Tess to appreciate, so they gravitated over to Lisa's tablet and continued their e-Commerce journey from there.
"What do the people say?" she asked her mother. Lisa noted to the audience that that's how her daughter referred to customer reviews– so she read aloud the ratings and comments from previous shoppers. Ultimately, they settled on a product, and with several clicks and swipes of a finger, Lisa had ordered the journal.
That night, as she tucked Tess into bed, Tess excitedly asked when it would arrive, how close it was. Though the purchase was only placed an hour ago, Lisa was able to hop back on one of her several devices and check in on the delivery status. She updated her daughter, and then turned to update her audience on just how old Tess was (is). Four. She's four years old. And her expectations of a customer experience were (are) completely aligned with many adult consumers in the world today.
Lisa next moved into the three things her team at Amazon focuses on when they think about business:
We start with the customer and work backwards. We're customer centric in everything that we do.
We innovate on behalf of our customers. We like to anticipate their needs before they know that they need them.
We think long-term. We aim to make the right decisions, and the right trade-offs.
"When we think about commerce and its growth, " Lisa noted, "well, it's growing. This year, eMarketer puts e-Commerce sales globally at $1.2 trillion." (Pause for jaw-drop. That's huge!) And in the next four years, she continued, that figure is forecasted to double. Lisa pointed out that at Amazon alone, this year, they have 215 million active customer accounts.