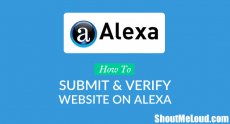 We have talked a lot about Alexa in the past, and I realized I have missed out the most basic tutorial here, and that is how you can submit website to Alexa. Usually, Alexa picks a new domain itself but it's always a good idea to submit your site yourself and claim your ownership. This way, you can add more details to your Website Alexa profile and make it look more professional.
There is always a controversy behind Alexa ranking, but I believe like many other website ranking tool, Alexa is one of the standards and we have to make sure that we get a good listing and ranking on Alexa. So this, beginner guide will help you to get started with submission and to claim your site.
Before we move ahead, for newbies: Alexa is one of the top websites which rank Websites globally and shows various ranking factors like Global rank, country based rank, search term query and many more details that are quite informative and important to judge a website.
So, let's get started with this tutorial and the very step is to create an Alexa account by going to Alexa.com. You can either create a custom login or simply login using your Facebook account. I prefer creating a new custom account, as I manage multiple websites and it will be much easier to remember the login. So, once you are done creating an account, go to Alexa site info page and search for your domain name.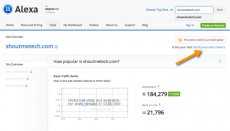 When you click on certify your site metrics, it will open a pop-up which says:
Certified Site Metrics is metrics that are directly-measured from the website instead of estimated. The website owner has installed an Alexa Certify Code on the pages of their site and chosen to show the metrics publicly.
For the website owner Certified Metrics provides:
A more accurate Alexa Rank
A private Metrics Dashboard for On-Site Analytics
The ability to publish unique visitor and pageview counts if desired
Click on plans and pricing page and below plans and pricing you will see an option that says
"You can create basic site comparisons or claim a site with a free Alexa account."
Click on create free Alexa account and repeat the above process and click on claim a site. You will see three option to verify your site ownership:
This step is to claim your domain in Alexa and edit its listing. Alexa offers many plans and pricing offer, but for a normal Blog, a free plan is good to start with. For a serious business site, I won't mind opting for their monthly subscription plan for more exposure. You can get a complete plans and pricing details here. Click on "Certify this site" and it will take you to Alexa Pro plan page, click on Sign up under free plan.
Claiming site in Alexa:
Similarly we do Google domain verification, in Alexa we can upload a file or add a meta tag to claim our domain. You can pick any of the method, (Upload a verification file to root of your domain or add meta tag in head section of your site. If you are using Thesis theme, simply go to Site Options > Additional scripts and add the complete verification code with meta name there.
For example:
Make sure to clear your cache if you are using any cache plugin, and click on verify the claim. BlogSpot Bloggers can add the code in their template and follow the same steps, if you have done everything right here, click on verify the claim and a successfully claimed message will be shown.
Click on Continue and you can edit many important details regarding your site. You will notice many parts will be locked, as you need to get a premium Alexa account, for editing the complete listing. Something, which I will ignore for now:
Once done, click on save and continue and your site details on Alexa will be updated. Though, in free Alexa account, there are many limitations like you can't add a custom logo and get more details but for a simple site and Bloggers it's good and I'm also uncertain if premium is listing on Alexa, will help to get more traffic or any major SEO advantage.
Though, it's always a good idea to submit blog and Website to Alexa or any other similar popular sites. Additionally you can use IMT Website submitter tool, which is a free tool to submit your site to major site ranking websites. An easy way to grab free link juice, which will be beneficial. Here are some articles, which will help you to submit your site to other places:
The only reason for claiming your site in Alexa is to add your site contact details, which at times is beneficial when advertisers use Alexa to find a relevant site to advertise. Moreover, your site profile on Alexa look more professional and better from any other.
beyond creative fortnite
beyond creative studio
creative but easy halloween costumes
creative but easy pumpkin carvings
creative but simple halloween costumes
creative but not artistic
creative but easy pumpkin carving ideas
creative but cute halloween costumes
creative but hot halloween costumes
creative but conservative
creative by nature
creative by design
creative by nature blakeney
creative by button
creative by nature llc
creative by nature diy and decor
creative by j
creative during pandemic
creative during lockdown
creative during covid
creative during quarantine
creative during corona
creative ideas during lockdown
creative dates during covid
creative dates during covid 19
creative event
even creative flowers
creative for kids
creative for facebook ads
creative for hire
creative for preschoolers
creative force
creativeforge games
creative forecasting
creativeforkidsco
creative form drawing
creative form drawing pdf
creative form drawing workbook 1
creative form design
creative form liners
creative form drawing angela lord
creative form drawing for the four temperaments
creative form taekwondo
what's another word for creativity
different names for creativity
closest synonym for the word creativity
creative ways to get in front of prospects
creative ways to reach prospects
creative ways to prospect