1. One Page Website
2. Big Screenshot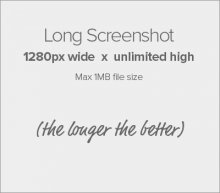 Your big screenshot is really important in relation to how many users actually click away to visit your website. Spend time here, make it beautiful. No not include desktop, browser or device shots – just the clean screenshot. Remove the scrollbars, remove the repeated sticky "back to top" link, remove the glitches. This is a great screenshot example. Try resize your browser window to 1280px wide first and then take the screenshot so the pixels are at 100%. The Nimbus Screenshot Tool is a great screenshot tool for Google Chrome.
3. Small Screenshot
If your small screenshot image is bigger than 30KB in file size, your submission is automatically deleted. Your thumbnail screenshot must also be exactly 400px wide x 211px high. Please take a screenshot of the actual website and do not just submit your company logo. A tip is to just resize the above 1280px wide big screenshot to 400px wide and then crop from bottom to 211px high.
Bonus point: Make sure your One Pager is ready
We all know what it is like, it's launch day and you're excited to show everyone but you have a small list of outstanding tasks – finish them first – there is no rush! Make sure you have polished everything as the smallest detail that is incomplete could be the decider for not being featured.