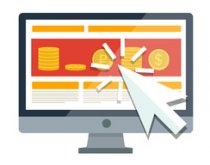 Is Your Website Ready for Pay Per Click Advertising?
If it's not ready we will give recommendations on what changes must be considered. Some common examples of what might be missing are: landing pages and content on the landing pages, a lack of a call-to-action, website appearance and load times. We will provide this consultation at no cost to you in order to get your website into fighting form.
What is Pay Per Click Advertising?
For new websites or sites that rank poorly, Pay-per-Click advertising provides a means to get your site exposure fast! Properly managed PPC will get customers to your site, regardless of your site's search engine ranking. Even established sites that are optimized and have good rankings can use PPC to bring traffic for additional search terms the site may not be ranking for. It is also a particularly successful strategy for quickly selling time sensitive or seasonal products or information.
How Does Pay Per Click Advertising Work?
It works by search engines selling search result positions for specific keywords/phrases (refer to figure 1). An advertiser only pays when a search engine user clicks a sponsored ad that leads them to a corresponding landing page. Cost will vary depending on the competitiveness of the keywords and their relevance to the page; the position on the search results and the number of clicks per day.
Note: Costs can be capped by a budgetary ceiling specified by the advertiser.
What is a Pay Per Click Campaign?
A PPC campaign is a strategic approach to running your search engine advertising and one of the quickest ways a business can start profiting from their online presence. With the proper management techniques, a PPC campaign can save you money and bolster your business online by improving your conversion rates and your site's exposure. It can also target specific products and services and even particular geographic areas. PPC campaign strategy places more focus on how wisely your marketing dollars are being spent.
What Makes a Successful Pay Per Click Campaign?
To create a successful PPC campaign that drives qualified customers to your site, it is crucial that there be a combination of carefully selected keywords and targeted ad copy. This ad copy must match to the information and content in the landing page in your site. As well, it is also important to closely monitor and evaluate all of the important data that is generated each day a campaign runs. This way, necessary strategic changes can be made in the best possible time frame.
StepForth Web Marketing can help to free up your time by managing your Pay Per Click campaign from start to finish. Our goal is to make every campaign we manage profitable. We succeed in this field because we specialize in search engine marketing (SEM): we keep up to date with new and coming techniques, and have the knowledge and accreditation to devise the best campaign possible — for any business!
What Are We Doing When We Manage Your Account(s)?
What we will do for you:
Create and fully set up your pay per click accounts with any or all of the 3 major search engines: Google AdWords, Yahoo Search Marketing or MSN AdCenter.
Research the most relevant keyword phrase(s) that best describe your products or services.
Determine possible niche markets that you may be able to tap.
Create targeted keyword rich ad copy for your campaigns.
Management of your PPC account(s) with regular tweaking of your ad campaigns to ensure the best possible results.
Adjust your cost per click rates and daily budgets to ensure that your placement is not only ranking optimally, but also to keep you on track with your monthly budget.
Send you detailed, monthly reports with the status of your ad campaign, complete with any information on necessary changes, new initiatives, and progress.If you manage your Pay Per Click campaign through StepForth, we will place your ads in a position that will minimize your cost and achieve the results you need to increase your bottom line online.