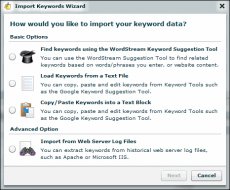 Pay-per-click keywords are the bread and butter of pay-per-click (PPC) marketing campaigns. When based on the right keywords, PPC campaigns can be an extremely lucrative marketing tactic for businesses.
Unfortunately, many PPC managers take the wrong approach with their pay-per-click keyword research, using tools that leave valuable keywords in the shadows. In addition, large-scale paid search campaigns based on extensive pay-per-click keyword lists become increasingly difficult to organize and manage.
Luckily, WordStream's pay-per-click keyword management software makes it possible to not only stay on top of data, but put that data to use to sculpt high-performance, cost-effective PPC campaigns. Read more to learn about the importance of proper pay-per-click keyword research and how WordStream helps you through the PPC process.
Successful Pay-Per-Click Keyword Research
Finding high-quality, low-cost pay-per-click keywords is the key to high ROI in your PPC campaign, and you need tools that will make that process simple for you.
WordStream focuses on long-tail terms from the get-go. With WordStream's keyword tools, including integration with Google Analytics, you can tap directly into your site's traffic logs and see what real searchers have typed to find you. This instantly gives you a list of accurate, high-quality terms. And with WordStream, keyword research is continuous—the software continues to grow your keyword list over time.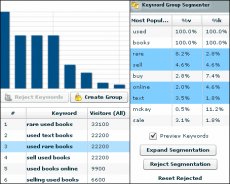 If you don't have much traffic yet and need a starting point, WordStream has your pay-per-click keyword research covered there, too. With WordStream's Free Keyword Tool as well as the ability to import keyword data from outside sources, WordStream gives you many options for establishing a strong PPC keyword foundation.
Strategic Pay-Per-Click Keyword Grouping and Management
As your pay-per-click keyword list grows, you need to begin to manage your data to prepare for your ad campaigns. WordStream makes this easy with built-in keyword grouping and organization tools. Using WordStream's grouping tool, you can group related keywords together with the help of suggestions that get smarter the more you use the tool. You can then create multiple groups simultaneously, and continue to segment to more granular levels for a tiered keyword group hierarchy. Once you've grouped your terms, WordStream filters new keywords into their proper segments automatically.
- Search engines reward campaigns with tightly knit, relevant pay-per-click keyword groups.
- A higher Quality Score and improved relevance lead to lower minimum bids for your keywords.
- Searchers will be well positioned to click on your ads when you're targeting them with the right keywords! WordStream's keyword grouping tools position you perfectly to receive all of these search engine marketing benefits without the headache of manually managing your data, which means you can grow your campaign into the millions of keywords without feeling overwhelmed.
Translating Pay-Per-Click Keywords into Ad Revenue
You've researched your keywords. You've semantically grouped them into a hierarchy in WordStream. Now how can you translate them into search marketing revenue? WordStream makes this process completely seamless by integrating your AdWords and other paid search accounts right into the WordStream dashboard. With a few clicks of the mouse, you can instantly create ad groups from even your most granular pay-per-click keyword groups.
Once you've created an ad group, you're able to directly associate the target landing page you'd like the ad to take visitors to, and WordStream even helps you get started in writing your ad text. Manage your bids and monitor progress right from WordStream.
With continuous keyword filtering and updating, WordStream's strategically automated tools truly put you in the driver's seat of your campaign, whether you're managing 200 keywords or 2, 000, 000.