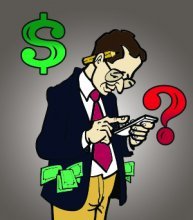 One of the most important and often asked questions from new sign makers is how do I get my retail sign pricing right? What do I charge?
No other question has such potential for success or failure for a new business. No matter how well you know your equipment, no matter how good your designs are, if you fail in pricing signs right, you fail; period.
So in the interest of increasing your chances for sign making success, we offer this beginners guide to sign pricing. We'll look at industry standard pricing for the most common applications, guidelines for design and labor charges, resources for managing costs, and tips for adapting to regional differences.
Let's start with some basic guidelines for banners, vehicle graphics, and small signage.
Banners
Banners are a staple of the digital graphics industry and account for the lion's share of most sign business sales. So it's important to get this one right. For some kinds of signs, you can base your quotes on material and labor costs, then add your desired margin. For industry staples like banners, that's probably going to lead to your quotes being too low. The standard for digitally printed banners is $8.00/sq foot.
So you could price a printed 3' x 6' banner at $144.00. For a simple, one color banner in "cut vinyl", you can price it more economically, in the $5.00 – $8.00/sf range, then add a little more for two or three color designs. Speaking of design, be sure to add a design fee if your customer is starting from scratch and you have to create the layout. That is in fact the most important aspect of the product. More on that later.
Vehicle Wraps
When quoting vehicle wraps, it's important to realize that, due to the degree of difficulty, this is a category that often gets compartmentalized. In other words, not everyone who sells wraps actually installs them. So if you're competing for a wrap job and the other quote seems low, make sure you're comparing apples to apples. The competitor may only be quoting installation. Some shops do the full project, from design to installation, but many do only the design work, or only install wraps that are designed and printed elsewhere. If you want to start installing, but don't have much design experience, you can outsource the design and printing to a local sign shop.
Resources