The chances are pretty good that, even though you may not have realized it, you've seen several examples of native advertising. These days, native advertising is everywhere – and it's getting harder and harder to spot.
There's something not quite right about this cheeseburger…
In today's post, we're going to look at what native advertising is, why it can be so controversial, and several native advertising examples that are really impressive – as well as a few that are downright terrible.
What is Native Advertising?
Simply put, native advertising is paid content. Articles, infographics, videos, you name it – if a content producer can make it, corporations can buy it and publishing platforms can promote it.
Now, you might be thinking, "How does a native advertisement differ from an advertorial?" Well, in order to be considered a true native advertisement, the content should align with the publication or site's established editorial style and tone, and must also provide the kind of information that the publication's audience typically expects.
These qualities are what make native advertisements difficult to spot, as they often blend in with the "organic" content extremely well. This is made even more challenging by the fact that there are no defined rules or guidelines on how publishers must label native ads, and standards of transparency vary widely from one publication to another.
Why is Native Advertising So Controversial?
"Don't trick them. Don't piss them off."
This was the advice of Eric Goeres, director of innovation at Time magazine, speaking at the recent Contently Summit. Goeres spoke during the "Truth in Advertising" panel at the event, during which the topic of native advertising took center stage. Goeres' words of warning refer to the trust between a publisher and its audience, and he emphasized the dangers of angering readers by resorting to trickery and deception to make a quick buck.
Brands and advertisers love native ads, mainly because the click-through rates tend to be much higher than typical advertisements and engagement is usually much stronger. However, not everyone is as enamored with native ads, particularly consumers.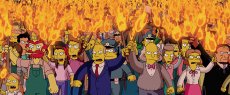 Several professional organizations have weighed in on the often vague nature of native advertising. The Federal Trade Commission is considering implementing regulatory measures on brands using native ads to promote their products, and the FTC has also indicated it may monitor the market closely to ensure that native advertising is being used in a manner that benefits consumers. The American Society of Magazine Editors has also called for greater transparency and oversight when it comes to native advertising.
The reason that many publishers see native advertising as a risky proposition is the potential for this kind of content to erode the public's trust. After all, if The New York Times publishes a "story" by Dell in exchange for money, can the Times objectively report on matters relating to Dell, or has every mention of the company been paid for? This is the dilemma facing publishers today.
Native Advertising Statistics
Almost half of consumers have no idea what native advertising is
Of those consumers who do, 51% are skeptical
Three out of four publishers offer some form of native advertising on their sites
90% of publishers either have or plan to launch native advertising campaigns
41% of brands are currently using native advertising as part of wider promotional efforts
5 Great Native Advertising Examples
So, now that we've established that native advertising is here to stay (for the time being at least), let's take a look at some of the best – and worst – native advertising examples.
1. 'Woman Going to Take Quick Break After Filling Out Name, Address on Tax Forms, ' The Onion
One of the funniest satirical sites on the web, The Onion also has a strong grasp on native advertising, as exemplified by this particularly well-known example.
This example is, admittedly, a little murky when it comes to the definition of native advertising above. Firstly, The Onion created this content specifically for its client (in this case, H&R Block), rather than Block simply publishing its own content on the site. However, the content itself and its positioning still classify it as native advertising, rather than "traditional" sponsored content, at least in my book.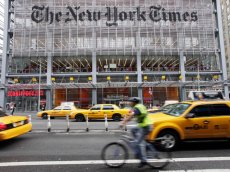 When this content was published in 2012, it was framed by several traditional vertical and horizontal banner ads for H&R Block. Even if visitors didn't click on these banners (which they're unlikely to, as you're 475 times more likely to survive a plane crash than click a banner ad, according to Solve Media), the result was significantly increased brand awareness.
Why It Works
Although the content of this post isn't about H&R Block specifically, it does address the typically bland, dry topic of taxes in a fun, relatable and highly entertaining way, creating a positive association with the advertiser. This native ad even poked fun at the box that clearly marks the page as sponsored content by including an endorsement from The Onion's fictitious "publisher emeritus" T. Herman Zweibel.
Although the banners served as calls to action, the main purpose of the campaign was to further increase H&R Block's brand awareness – a goal that this native advertising example accomplished admirably.
2. 'Infographic: UPS's 2012 Change in the (Supply) Chain Survey, ' Fast Company
This infographic highlighting UPS's innovations in its supply chain management operations is another excellent example of native advertising. It's not the prettiest infographic you'll ever see, but it gets the job done.
What makes this infographic such a great example of native advertising is that its virtually indistinguishable from Fast Company's typical content. Notice the tiny gray "Advertisement" tag at the top? It's definitely easy to miss. The infographic's use of UPS' brown and yellow color scheme further reinforces the content's brand messaging in a subtle way, and the infographic succeeds in selling UPS' services in the tried-and-trusted "problem/solution" format.
3. '10 Quotes Every Grad Needs to Read, ' BuzzFeed
Alongside Upworthy, BuzzFeed is the most successful viral hit factory on the web. Is it any wonder that the site would eventually open up its coveted readership to sponsors with deep pockets? Case in point, the BuzzFeed "Community" pages, featuring brands like publishing giant HarperCollins:
As you can see above, posts made to the Community section of BuzzFeed have "not been vetted or endorsed by BuzzFeed's editorial staff, " meaning that HarperCollins (and Mini, and Pepsi, and the other brands that publish content at BuzzFeed) have simply paid for the privilege of getting their brand in front of BuzzFeed's audience. Apart from the prominent HarperCollins logo above the social share buttons, there's little to set this apart from BuzzFeed's regular content.
Timeliness factors into the success of this native advertising example. Firstly, the post was published in late June, coinciding well with graduation season. Secondly, the basis of the post was teacher David McCullough, Jr.'s famous "You Are Not Special" commencement speech, which itself went viral.