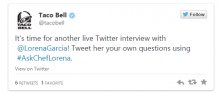 Videos and Photos. Post videos and photos that give followers a behind-the-scenes look at your business.
Q&A Sessions. Promote exclusive question and answer sessions with a member of your company.
Regardless of which type of Twixclusive you choose, schedule promotions on a routine basis, perhaps as often as weekly. Doing so incentivizes people to follow your business and look forward to the next offer. Using hashtags such as #MondayMadness or #ThriftyThursdays assures your followers that this will be a regular occurrence.
2. Run a 'Flock to Unlock' Campaign
Twitter's Flock to Unlock campaign is a way to incentivize your followers to perform a specific action in order to reveal a special deal. You can choose to disclose the deal in your initial tweet or keep it a secret, revealing it only after a particular criterion has been met, such as a specific number of retweets.
Here are the steps to create a Flock to Unlock campaign using retweets as the example.
Find out what particular product, color, or style of your product that followers like best — which you can do by asking them to visit your website and provide feedback.
Determine how many retweets you need to unlock the deal, and then give your followers precise instructions on what they must do in order to receive it.
When you reach the required number of retweets, let your customers know and then reveal the deal.
Once the campaign concludes, update your followers and retweet positive mentions that you received while it was in progress.
3. Generate Interest in New Product Launch
If you plan to introduce a new product in the near future, generate interest by posting tweets about it several weeks in advance.
Tweet hints on a regular basis incorporating a hashtag that refers to the product, and that gets people involved.
This type of promotion also works well using a Flock to Unlock campaign. The big reveal could be a video or photo announcing the new product. Link to a page on your website that provides more information.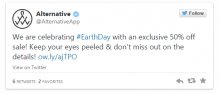 Also, be attentive to tweets that generate the most interest and then fine-tune your messages to align with them. Repeat what works best and scrap the rest.
4. Promote Events
Use industry, seasonal, or cultural and sporting events to promote your business.
Industry Events. Kick-start conversations on Twitter about industry trade shows, conferences, or meetings in which you participate. Use a hashtag specific to the event to keep conversations focused, such as in this example.
Seasonal Events. Events such as Mother's Day, graduation, back to school, and Thanksgiving tend to create spikes in conversation on Twitter. Use hashtags such as #MothersDay to insert your business into the discussion.
Cultural and Sporting Events. Twitter conversations tend to peak around recurring cultural and sporting events such as the Oscars, the Super Bowl, or the World Series.
Colorado's Winter Carnival;
Iowa's RAGBRAI, a bike ride across the state;
Utah's Sundance Film Festival;
Chicago's Taste of Chicago.
Creating engaging tweets that center around these events is yet another way to gain more followers and breed interest in your business. Consider coupling events with a Twixclusive or Flock to Unlock campaign to amplify the effect.