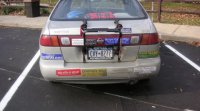 If you'd come to me a few years ago and asked how you could make more money, I would have said you have two choices: Find a better-paying job or take on a second one. Now, I know better.
There are plenty of ways to make more cash without schlepping to another desk or waiting tables at night. Check out these three ideas for ways to bring in the dough without putting in more hours at the office.
1. Help companies go viral on your social media network
Ever watch a funny video and immediately click the share button on Facebook, or see the same funny meme retweeted on Twitter a dozen times in a day? Companies are scrambling to get this kind of exposure through "viral marketing."
If a company can get you interested enough in its ad to share it, it wins; or it could take the easier route and pay you to watch and share its videos on your social network.
This is where companies such as Wingsplay come in. The idea is pretty simple: You sign up for an account, view available videos, and share the ones you like on sites such as Twitter, Facebook or your personal blog. Every time someone else views the video, you make a little bit of money.
The catch: Your earnings potential depends on how popular you are on social networks. For example, I have 264 Facebook friends and update my status about once a week. I had Wingsplay calculate my influence, and they said I could make $29 a month through Facebook. To make more, I'd need to have more friends in my social networking circles and be more active on the sites.