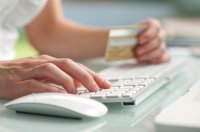 LinkedIn is a very effective medium to increase customer acquisition, especially in the Business to Business market. But with the different types of advertising, the bidding payment system, and a plethora of targeting opportunities, the advertisement choices on the platform can be a tad difficult to navigate. The key to understanding LinkedIn paid advertising is to know a great deal about your target audience.
Advertisements vs. Sponsored Updates vs. Direct Sponsored Content
There are three major ways to advertise your company on LinkedIn: display advertisements, sponsored updates, and direct sponsored content. Display advertisements are those that will be showed to your target audience but will not show on your company page. Most commonly, they are used to give a generic introduction to your company and they often include links to your company's website. a 50 by 50 pixel photo, subject line of 25 characters or less, a description of only 75 characters or less and can include a link if desired. Realistically, the required photo is only for decoration and the true value of your advertisement should come in your subject line and direct link. This type of advertisement is typically shown on the right hand side of the home page and does not blend in with the other content. Sponsored Updates, on the other hand, are company page updates that reach a much larger audience than usual. Instead of broad introductions, these are better suited for specific marketing campaigns about a specific product release or content creation. A great example of this was our recent post regarding our new YouTube video, #asktheintern.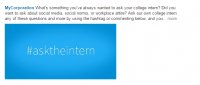 Lastly, is the newest form of advertising on the platform and is very similar to the format of a sponsored update, except it does not show on your company page. The purpose of these is to advertise more natively on the platform. Like display advertisements, they should be broad and focus on getting the potential customer back to your own company website. All are priced in the similar fashion with the advertiser able to choose between cost-per-click and cost-per-thousand impressions. The type of advertisement and the appropriate pricing will all depend on the product and size of your company.
Targeting Your Audience
LinkedIn advertising has a general affinity towards the B2B market. Regardless of type of advertisement, LinkedIn allows you to narrow down the potential audience by geography, company, job title, group, gender, and age. LinkedIn only requires the geography filter, but the job title filter seems to be the second most used tag due to the nature of B2B marketing. For MyCorporation, we tend to focus on the entrepreneurs and business owners. Those groups are broad enough that it doesn't significantly narrow the potential reach, yet specific enough to reach our target audience.
Managing Your Campaigns
Once you have chosen your advertisement and audience, it's time to manage your campaign. LinkedIn recently came out with a to their campaign management tool. With a new look and design layout, you are able to easily look up different campaigns, as well as track the quantity of social interactions with the advertisements. One of the best features on the new campaign manager is the ability to look at the demographics of those that clicked on the advertisement. This information is vital in understanding who you advertisements are appealing to and how to change your future campaigns to hit more of your target audience.
The world of LinkedIn advertisements can be overwhelming at first. Remember that the abundance of analytics for each of your campaigns is a great resource to identify potential areas of improvement. It may take some trial and error with the different types of advertisements and the different tags to narrow your audience, but many companies have had huge success in B2B marketing with the help of LinkedIn.
Fact:
Avez-vous des questions sur l'entretien de votre voiture? Voulez-vous savoir comment faire le tuning ou les réparations nécessaires? Voulez-vous devenir un super pilote sans partir de chez vous? Eh bien, vous avez des questions, et le site https://le-monde-des-voitures.fr a des réponses! Soyez le bienvenu!