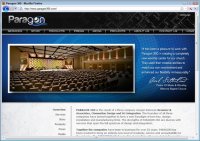 Consider using tried-and-true techniques on your business website for shameless self-promotion: advertising (internal banners), testimonials, reviews, and awards. These tools can help you increase the time that people spend on your site.
Displaying internal banners
You know those ubiquitous banner ads that litter the web? You can take advantage of similar banners within your own site. Rather than have paid advertising that links to someone else's site, however, link your internal banners to pages within your own site. Driving viewers to additional pages increases the time they spend on your site and the likelihood that they'll remember your business or buy your product.
Although special features on your site should be easily accessible by way of navigation, the user's eye usually isn't attracted to the navigation. In addition, grab viewers' attention with an eye-catching banner that promotes a monthly special, opens the newsletter sign-up page, or accesses a community-building page. Internal banners are a no-brainer for onsite marketing, but plan them as part of the overall site layout and graphical design.
Collecting testimonials and validations
Offline testimonials reassure customer prospects about the quality of the product or service you offer. Testimonials can come from an objective press rating, a celebrity, experts in the field, or other customers.
Collect testimonials from satisfied customers and media mentions at all times, not just while you're working on site content. (The testimonial from your mother doesn't count. Sorry.) These recommendations are more no-brainers. You spend some effort — but no cost — to collect them initially and to freshen them over time.
If you have a business-to-business (B2B) site, get permission from your customers before using their names, titles, and company names. Some firms don't permit their names or their employees' names to be used in endorsements; you don't want to risk losing their trade. Sometimes, you can create the same effect by using a job title and a description, such as Director of Engineering, Fortune 500 Company.
Although the situation is less sensitive with "ordinary" customers, you're still better off requesting permission.
If you can't locate the source, you can use a first name and last initial, or vice versa, and their city or state: J Zimmerman, Albuquerque, NM for example. If your customer comes from a small town where he might be recognized or has an unusual name, use only his name or only his state or country (for example, P Tchaikovsky, Russia). However, the less specific the attribution, the less potent the testimonial.
There's no point in pasting a long list of testimonials on a single web page — no one will read them! Instead, try these suggestions for getting the most from this onsite marketing technique:
Scatter the testimonials on multiple pages throughout the site.
Judiciously select short phrases or single sentences that are relevant to the content of a particular page. In a case where web media differs from print, an online testimonial carries more punch when it's short and to the point.
Break a long testimonial into several endorsements on different pages of the site.
Rotate testimonials as part of your content update. You can rotate the text manually or ask your developer to set up a quote database that posts a different testimonial every day or every time your site is accessed. Testimonials can be effective on almost any site, as long as you don't overuse them.
The following illustration shows how Paragon 360, a developer of professional performance venues and multimedia productions, features client testimonials in the header graphic on each page of its site, choosing a different quote and image for every section.