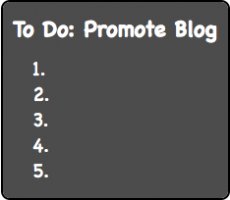 Today I want to explore a 'secret' of growing the readership of a blog.
A few weeks ago I explored how to increase the number of subscribers on your blog through creating anticipation. The more people anticipate that they'll get something of value from your blog in the future the more likely they are to want to come back and subscribe.
The problem is that you can create anticipation on your blog as much as you like without increasing your readership one iota if you don't also do what I'm going to share with you today.
The Problem of Preaching to the Converted
The mistake that I think many of us make in our blog promotion is that we continue to promote our subscription methods to the same people – those who have already subscribed to it – our regular readers.
We're preaching to the converted – or to use another analogy we're mining the same patch of dirt over and over again.
Some Promotion to the Loyal is OK
Now I'm not arguing with this post that you shouldn't talk about your subscription methods to regular readers or that they should never see your invitations to subscribe (promoting your methods of subscription prominently is an important technique in building RSS subscriber numbers) – however doing it to your regular readers will have a diminishing conversion rate the more you do it.
Perhaps the most public example of this was in the post that I linked to above where I observed that John Chow and Shoemoney's competition to increase subscriber numbers seemed to largely pitched to their current readers – however I see daily examples of how many bloggers do this (and have done it myself).
Example One – I once followed a blogger who writes a post each week which promotes their subscription methods.
Example Two – I follow another blog that has an invitation to subscribe to it's RSS feed actually in the footer of every post on that same RSS feed.