Forums can be a great tool in promoting your link to your niche group. However, most people do not do it right. With a focus on promoting links, most webmasters have bordered on spam while contributing to forums. Here are some tips to remember while you are looking at a forum to promote your links.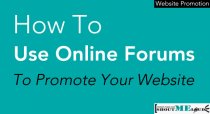 Quality vs. Quantity
Whenever you are logging into a forum, remind yourself of the magic mantra Give more take less. Remember to contribute more in value to the other members' needs. This builds a great deal of trust. A member who looks the most ˜selfless' is the one who can reap the maximum benefit out of online forums. How? By building trust within the forum, you are giving a signal to moderators of the forum that you are not here to spam. With that, an occasional linking to your website inside the discussion shall not only be condoned but you will also be thanked for providing them with ˜valuable' information.
PM Talk With the Influential
You wouldn't want your promotions to stay within the forum, right? In that case, find the authority members " not in terms of forum contribution, but measured by the authority of their owned websites. These are members who can help you leap to the next level. Make it a point to contribute to all discussions that they contribute in, PM them with your point of view and get to know the individual. After a few contacts, your request for a link back or even a review of your website is sure to be accepted readily!
Flame Bait
Everyone of us have used forum signatures. Everyone knows that it can bring traffic, but why aren't enough people clicking? That is because we have not provoked them enough to get curious enough to click and check us out. The best way to do this is through flame baits. Every niche has its own controversial topics that can invoke heated discussions and passionate debaters. Periodically start a topic on one of these topics and let the flame grow. So many people debating back and forth will get curious onlookers click on your link to check your own site.
Also read: