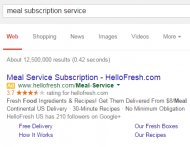 Paid search is one of the most effective ways to grow your business. This page is a basic overview of PPC, an overview of some of the core terms you'll encounter as a paid search advertiser, and more information on several tools that will help you manage your PPC campaigns more effectively.
PPC, or pay-per click, is an advertising model in which advertisers' ads are displayed to users of search engines such as Google.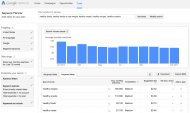 The searcher enters their search terms – also known as a "query" – into the search engine, before being presented with results relevant to their search. Text-based ads are often displayed to users of search engines, and whenever a user clicks on one of these ads, the advertiser is charged (hence the term "pay-per-click").
An example of a pay-per-click ad displayed on Google
In order to display their ads to search engine users, advertisers bid on keywords – terms and phrases including specific words – that are likely to appear in search queries. For example, a landscaping business may bid on keywords such as "landscaping services, " "landscapers, " or "lawn care services." The amount an advertiser bids on a certain keyword determines how much they are charged each time a user clicks on their ads.
Bid costs can vary widely depending on a range of factors, and the competitiveness of a keyword is one of the most important. Keyword competition can be assessed primarily based on two variables: how many times people search for that keyword on average in a given month, and how many advertisers are actively bidding on it.
Default bidding options in Google AdWords
For example, the insurance industry has some of the most expensive keywords in PPC. This is because search volumes for related queries are very high, as is competition among advertisers bidding on them. The average cost-per-click of an insurance-related keyword is $54.91 (see more data on the most expensive keywords here).