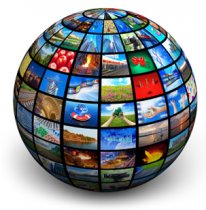 In the Content Marketing Trilogy of Discovery, Consumption and Sharing, there are a mix of media types online marketers employ to facilitate the connection between brand information and consumers / buyers across the customer lifecycle relationship. Those media types are often characterized as Paid, Earned, Owned and Shared media. What do those media types mean and where do they fit within an online marketing mix? Here's a 30, 000 foot view of each media type and what they might contribute to a content marketing strategy:
Paid Media – Often thought of as "traditional" online advertising through display ads, pay per click search ads and sponsorships. The pro for paid media is it's ability to be implemented pretty much on-demand, the ability to have some degree of control and also that it scales. The growing popularity of social advertising on sites like Facebook, Twitter and LinkedIn (YouTube as well) adds another option for marketers to gain presence in channels where consumers and buyers are spending their time. The appearance of brand messages and content within paid media can work together with social sharing and organic search.
Earned Media – The result of public & media relations efforts to gain coverage in publications – on and offline. Or essentially, brand presence within media without having to advertise. This definition also extends to brands that behave online in such a way that "customers empowered to publish" create content on the brand's behalf inspiring buzz and word of mouth.
Owned Media – Media, content and assets that the brand controls, like websites, blogs, newsletters and brand social media accounts. Brands are increasingly behaving like publishers with editorial staff managing content creation steams. "Content Marketing" is the hot topic when it comes to Owned Media and can facilitate brand information discovery through search and social channels. Content engages customers and fosters relationships throughout the customer lifecycle. Brand content to serve both broad and niche audiences is not immediately scalable, but can provide long term growth benefits without corresponding growth in costs.
Shared Media – Brand social web participation and interaction with consumers on content on sites like Facebook, Twitter and YouTube that results in content is "shared media" since it's a result of a shared interaction. Because of the nature of social sharing and engagement on social media sites, Shared Media can propagate across an individual's network to others, and so on and so on. Paid and Owned Media can inspire Shared Media. Shared Media can inspire Earned Media.
As more online marketers are exposed to these terms most commonly used by Advertising and Public Relations Agencies, I think it's useful to explore what they mean for content marketing and the options for marketers to best facilitate consumer information discovery, consumption and sharing.