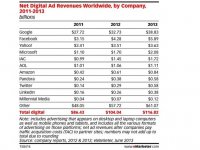 It may not surprise anyone to read that Web juggernaut Google is the No. 1 seller of online advertising by orders of magnitude over its competitors. Thanks to research firm eMarketer, however, we now have a global leaderboard that puts it into perspective.
The new data also shows how relative newcomers in advertising such as Internet radio service Pandora and microblogging site Twitter are gaining momentum on mobile devices, while Amazon also is making waves in a market that's far from its ecommerce roots.
Overall, this year Google is expected to capture 33.2% of the world's $117 billion in digital ad spending, up from 31.5% in 2012, after payouts to its AdSense partner websites and to companies that post videos on Google's YouTube site.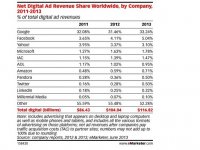 Facebook is expected to have 5% of the market, up from 4.1% last year. At No. 3, Internet pioneer Yahoo will continue to lag and is expected to have 3.1%, down from 3.4%, while No. 4 Microsoft will rise to 1.8% in 2013 from 1.6% last year.
Microsoft declined to comment. Google, Yahoo and Facebook didn't respond to a request for comment.
In mobile ads, Google is running away with the show. This year it is expected to grab 56% of the $16 billion mobile-advertising market, up from 52.4% in 2012. Facebook will grab 12.9% of the market this year, up from 5.4% last year, eMarketer estimated, which is impressive considering how the company didn't generate mobile revenue two years ago.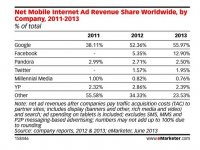 Yahoo and Microsoft are nowhere near the front of the pack in mobile. Instead, Pandora took the No. 3 spot, with 0 million in mobile-ad revenue, or 2.5%. Pandora was followed by Twitter at No. 4, with 0 million in expected mobile-ad revenue this year, or 2% market share.
Twitter declined to comment. Pandora didn't respond to a request for comment.
Returning to the overall global advertising market, IAC, which owns a host of websites and is one of Google's the biggest AdSense partners, checks in at No. 5, with 1.5% of the market in 2013, up from 1.4% last year.
Like Yahoo, veteran Internet company AOL also will see its share drop to 0.95% of the global market, down from 1.02%, eMarketer said.
Amazon, meanwhile, is quietly making a name for itself in advertising sales, thanks to its leveraging of rich shopping data from millions of customers. The ecommerce king will be the No. 7 biggest seller of online ads this year, with $840 million in net revenue, up from $610 million last year, eMarketer said. That's good enough for a 0.7% market share.