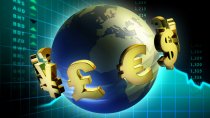 The internet remains the fastest growing medium for advertising globally and is expected to surpass traditional television by 2020, according to a new report.
The report from ZenithOptimedia shows that online already dominated ad spend in Australia, Canada, Denmark, the Netherlands, Norway, Sweden and the UK in 2014, and will do so in another five markets — China, Finland, Germany, Ireland and New Zealand — by 2017. Together, these 12 markets account for 28 percent of global ad spend across all mediums.
"The internet is quickly establishing itself as the dominant advertising medium, and on current trends will overtake television by the end of the decade, " said Steve King, ZenithOptimedia's CEO, Worldwide.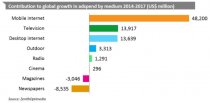 Mobile, not surprisingly, is identified as the main driver of the internet's growing market share. Mobile's global share of ad spend is expected to more than double from 5.1 percent to 12.9 percent, making up 70 percent of global ad spend growth overall.
Television continued to dominate advertising share in 2014 with 39 percent of ad spend. It is expected to grow 2 percent a year through 2017. Globally, ZenithOptimedia expects TV's share of ad spend to dip to 36.8 percent in 2017 as marketers shift budgets to online video.
Though it's still relatively small — expected to grow from 2.1 percent of global ad spend to 4.0 percent in 2017 — online video grew 33 percent in 2014, faster than any other digital category or sub-category. Social media is growing at a rate of 25 percent a year, and paid search is expected to grow 12 percent a year to 2017.
"The amount of time viewers spend watching online video on their laptops, tablets and smartphones is increasing rapidly, and advertisers are shifting their budgets online to follow them, " said King. "The spread of internet devices and new advertising technology will give advertisers new opportunities to communicate with and learn from consumers, and to do so more effectively than ever before."
By 2017, internet ad spend will close the gap with television to just 4 percentage points, down from 11 percent this year.
Resources