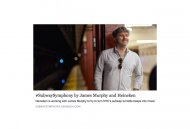 It is a time of the year to look at the landscape of ads from a wider perspective and try to foresee the future of advertising. Where are we heading to? What are we leaving behind? And which trends are rising up?
For a couple of days now, I've been trying to distance a bit from all the stories and examples I've shown you over the last year and see the common trends advertisers are using. I also asked a few experts about their opinions on the future of ads.
Here's what I've come down to:
people (and I) want an advertising to be engaging and delighting
thus, each ad needs to be precisely designed for an audience (you or me) and fit the environment in which it shows up.
People hate ads which are persuasive, intrusive, and divorced from content of the web page, but they accept and often love ads which are carefully designed and appeal to them.
Having this as a mindset, advertisers should (and will) focus on storytelling, native advertising, and better design using HTML5 and the art of typography.
Now let me shine a little light on each of these aspects.
We love stories. There's no doubt about this. We soak in the stories of other people and fictional heroes and feel emotionally connected with them. A well-told story of a product evokes good feelings in us which often results in a purchase of a product or at least in liking the brand.
In the last year, many brands were using storytelling as their advertising tactic.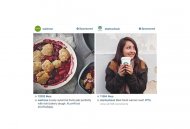 The latest Christmas campaign by Burberry is a story of celebrating 15th anniversary of the film, Billy Elliot. The commercial, already seen on the YouTube by over 12 million people, captures an opening scene of the film with celebrities dressed up in Burberry's apparel. The snapshots from the commercial are used on banner ads and landing pages.
This summer's campaign by Heineken promoting a social project, Subway Symphony, is another narrative. It's a story of supporting the idea to change the sound of the NY subway turnstiles into music. There's a hero in this story, James Murphy the father of the idea, and there are snapshots capturing the process of turning Subway Symphony from a pipe dream into reality. The whole project is advertised through various channels: classic banner ads, a dedicated web page, YouTube videos, Twitter hashtags and Facebook posts.
Even an occasional product, like a Christmas blend of coffee brought by Starbucks, is now promoted through storytelling. In the short video baristas and coffee specialists from Starbucks talk about the spicy and sweet flavor of a coffee blend derived from aged Sumatran (a type of coffee) beans. By uncovering a process of making the holiday traditional blend and sharing their passion to the coffee, they make a product more interesting and definitely emotionally engaging.
The storytelling arising in advertising is a clear shift from telling customers what to do or praising a product into showing that a product or brand is a part of our lives and contributes to our social life as well.
"More brands will transition their efforts to storytelling with content, lifestyle advertising, and product placement on social platforms like Instagram. Direct marketers will continue to take advantage of this trend by increasing their ad budgets to drive consumer actions as the channel expands due to improved scale, data, and targeting."